Latest
Dark Overcast Skies But Little Chance Of Rain In Dubai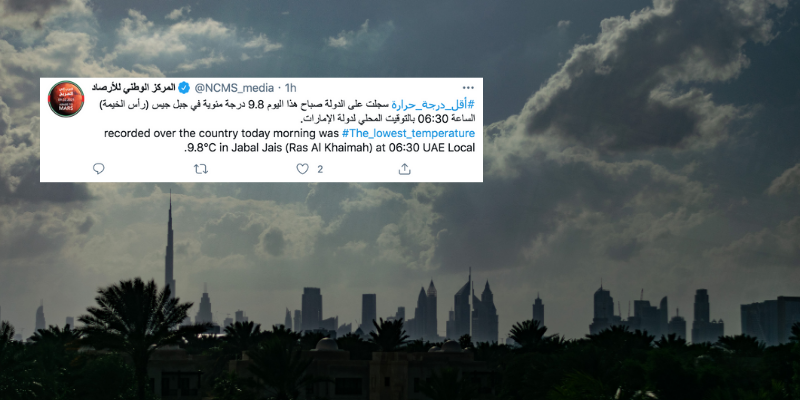 It's feels like an AGE since we experienced proper rainfall in Dubai.
This morning, Dubai residents woke up to the closest thing we get to a winter's day. Deep blue skies, a slight chill, and overcast sky. (I know, I know, our winters are rough).
Is a rain day on the horizon? Unfortunately, no. The National Centre of Meteorology warned of fog and shared fog alerts for the coming days, and it looks like more clouds are expected with little chance of rainfall.
Temperatures below 10C in Ras Al Khaimah this morning were the lowest temps recorded
#أقل_درجة_حرارة سجلت على الدولة صباح هذا اليوم 9.8 درجة مئوية في جبل جيس (رأس الخيمة) الساعة 06:30 بالتوقيت المحلي لدولة الإمارات.#The_lowest_temperature recorded over the country today morning was 9.8°C in Jabal Jais (Ras Al Khaimah) at 06:30 UAE Local.

— المركز الوطني للأرصاد (@NCMS_media) February 9, 2021
The fog skipped coastal areas but will hit central parts of the country today
#Alert #Fog_Alert #NCM pic.twitter.com/BLiKvxgika

— المركز الوطني للأرصاد (@NCMS_media) February 9, 2021
The NCMS shared weather alerts for North and Eastern parts of the country
#Alert #Fog_Alert #NCM pic.twitter.com/5oI1G9ET0f

— المركز الوطني للأرصاد (@NCMS_media) February 8, 2021
There will be mist, but chances of rain are slim in the coming days
#NCM #UAE #officialuaeweather #weatherforecast #seastate #windspeed #winddirection #rain #fog pic.twitter.com/Z6f1DK7o2J

— المركز الوطني للأرصاد (@NCMS_media) February 8, 2021