Community
These Images of Wadi AlDisah Will Take You Somewhere Else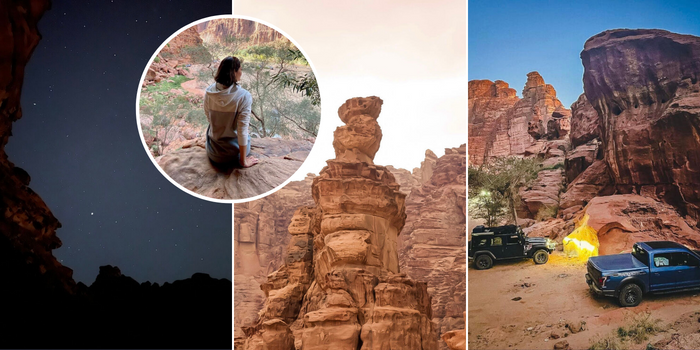 These Images of Wadi AlDisah Will Take You Somewhere Elsewhere Else
It is no surprise that Saudi Arabia is of full of natural wonders, from the beautiful mountains in Alula to the amazing Farasan Islands, and way much more.
One spot that not a lot of poeple know about is Wadi Al Disah, which is mountainous area located in the southwest of Tabuk.
Wadi AL Disah has a great historical and cultural significance, with ancient remains and buildings tracking back to the Nabateen era.
Keep reading to know more 👇🏼
Looking For A Sweet Escape? This Spot's For You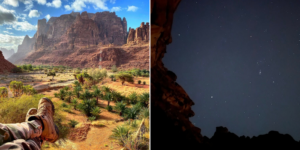 Photo Credit: Abdulaziz Albenayan / LinkedIn
This place looks amazing both day and night, whether you want to explore the mountains and farms in the morning, or even if you're in for a chill night to stargaze and wonder 🌌
These Images of Wadi AlDisah Will Take You Somewhere Else
Enjoy All The Greenery That This Place Offers 💚
Did you know that Wadi Al Disah translates to  "the valley of palm trees"? How beautiful!
📍 Wadi Al Disah, Province of Tabuk, Saudi Arabia pic.twitter.com/DdxcBC55BL

— JIM🇸🇦🇵🇭🌱 (@jimreydaps) January 25, 2022
Take Amazing Shots That You'll Remember Forever
El lugar se llama Wadi Al Disah 🧡 pic.twitter.com/BUwOt6xdjB

— Kike Arnaiz (@kikearnaiz) February 5, 2023
The Generosity Of Saudi People Is Endless!
This tourist shared an entire thread of his visit to Wadi Al Disah, and how he came across some of the local citizens in that area who offered him a visit to their houses, and welcomed him with Saudi coffee and some famous local desserts
…wie hier bei den #HangingRocks unweit der kl. Ortschaft Abu Rakah, auf halbem Weg zwischen al'Ula und dem Wadi Al Disah. Und meist blieb mir kaum Gelegenheit für mein eigenes kl. Frühstück, so wurde ich auch immer wieder mal von Einheimischen schnell entdeckt u. als Gast…
2️⃣ pic.twitter.com/qJZNkOhWmp

— Carsten Pætz 🇪🇺💙💛 (@stromab) December 15, 2022