Latest
5 Hidden Historic Spots In Sharqiya That Most Tourists Never See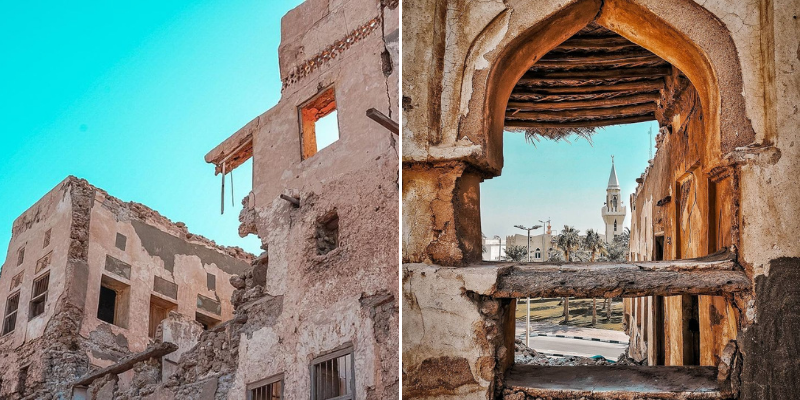 The oil-rich eastern part of the country isn't the first place that comes to your mind when you think of history. As a lo0t of the big forts, palaces and merchant houses are concentrated in the central, western and southwestern regions. But Sharqiya has a lot – albeit not that prominent. It does require a lot of searching but we've done that for you and added the coordinates; so the heavy lifting is already done. You're welcome:)
1. Prosperity Well
AKA Dammam Well No.7, this was the well where oil first discovered in Saudi Arabia (at least in commercially viable quantities). It was discovered at a time when Saudi Arabia was about to be written off after years of searching. But just when they were about to quit, they struck black gold and Saudi Arabia began its path to its prosperity. Apt name for the well, don't you think?
Coordinates: 26.32109820909934, 50.127665626692604
Where it all started for Saudi oil in 1938. Dammam Dome Well 7 produced for 45 years. #SaudiAramco pic.twitter.com/rLufPg1RFL

— GeraldAButt (@butt_gerald) April 23, 2019
2. Qatif Castle
Yup, we've got castles here in Sharqiya too. This particular castle was built by Sassanids back in the third century. – it's that old. The Ottomans came, restored it and used it as a defensive military station for the Persian Gulf region. However, we don't know exactly when but the civilian population moved in and it developed all sorts of amenities that a civilian population needs to live. Back in its heydays, it even had moat around it. Se yes, it's a historical place and history buffs can't afford to skip this.
Coordinates: 26.559850183053257, 50.00670841987351
View this post on Instagram
3. Al Tawia Tower
History is not the first thing that comes to mind when you think of Jubail but it actually one surving historical landmark from back in the day and it's the Tawia Tower. This was built by King Abdulaziz to protect the Tawia Well, which was a vital supply of water for the local Bedouins.
Coordinates: 27.012749757497723, 49.63678718880732
View this post on Instagram
4. Al Mullah House
Hofuf is an ancient Arabian city and a lot of its historical palaces and landmarks are well-known. But delve a little deeper, and Hofuf has a lot more to offer. Sheikh Abdul Rahman, the judge at the time of Imam Saud, the founder of the first Saudi state, established Al Mullah House almost 200 years ago. King Abdulaziz is said to have visited this residence decades later. It has been wonderfully renovated and is a unique specimen of Sharqiya architecture.
Coordinates: 25.37666428741903, 49.584946983873564
View this post on Instagram
5. Prince's School
Another gem of a place from historically rich Hofuf, the Prince's School is a fine two-story square structure with neo-classical architectural elements built in 1941. The elegant arcades that face the courtyard are stunning. It was originally a school for children hailing from royal and aristocratic, thus the name. Inside, the classrooms now function as a mini museum offering insights into methods of teaching in days gone by and carry photos of alumni.
Coordinates: 25.374077366023414, 49.58741879508036
المدرسه الأميريه بالأحساء (بيت الثقافه) 🤍. pic.twitter.com/11udV7poGt

— MARAWA (@_iMarwa95) September 1, 2020