Latest
A Rare Hail Storm Near Madinah Blankets The Desert In Snow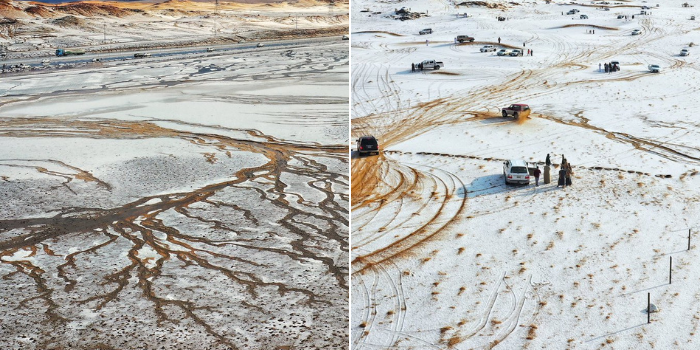 While snow falling in the kingdom's northwest is almost an annual affair now, it recently fell in a place far from that.
A recent hail storm left the desert near the town Badr not far from Madinah blanketed in snow. The aerial footage shot by a Saudi photographer, Osama Al-Harbi, has been reshared across global news networks.
It doesn't look like Saudi Arabia at all!
A rare hailstorm left sand dunes covered in snow outside Badr city in Saudi Arabia.
Drone footage shows the unusual white landscape pic.twitter.com/9Ivea0nI8r

— RTÉ News (@rtenews) January 12, 2022
Peeps, this is a true winter wonderland.
صور مباشرة :

بردية كثيفة على مفرق محافظة #بدر
جنوب غرب #المدينة_المنورة الان pic.twitter.com/TdWxw6Ln8R

— أسامه الحربي (@osamafilm) January 11, 2022
You better be heading to Madinah fast to catch the snow.