Latest
5 Things To See In Tabuk Apart From The Snow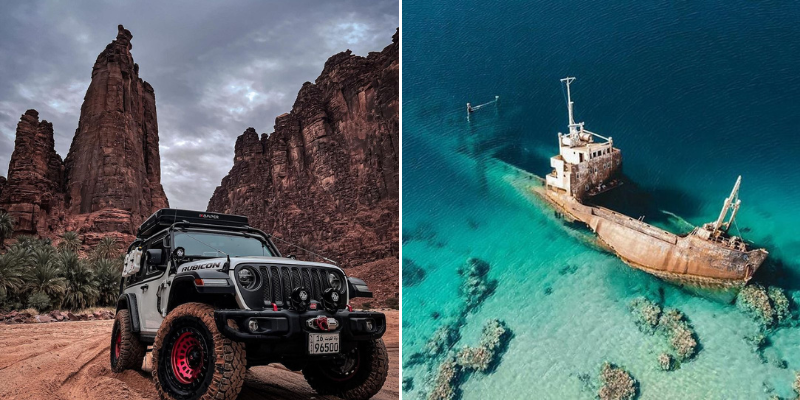 Ever since the World Cup has ended, during which almost everyone in Saudi was heading to Qatar, the new go-to destination has become Tabuk. Those mind-boggling snowfall videos have definitely helped boost tourism to the place. Luckily, the province has so much else to see besides the snow, so let's dive right in.
1. Tabuk Castle
Located smack in the heart of the city, this castle is one of the oldest structures in the city, dating back to the 16th century. Though modest in size, it's in pretty good condition, and that's what makes it worthy of a visit.
View this post on Instagram
2. Tayma
Situated just about a two-hour drive from the city of Tabuk, Tayma is an ancient oasis that's filled with historic places to see. There's one of the oldest wells in Arabia called the Bir Haddaj, historic palaces that lie on the fringes of the city, and the Twitter-famous Naslaa Rock Formation.
View this post on Instagram
3. Georgios G. Shipwreck
In 1978, a Greek ship loaded with cargo heading towards Jordan went adrift and hit the coral reefs near Ber Al-Maashi Beach. It's been lying there ever since, and it has become a temporary home for migratory birds. It became hugely popular at a time when Instagram was more about photos than reels. Just look how fab it looks in it it.
View this post on Instagram
4. Wadi Disah
You'll be hard pressed to find a more scenic place in all of Arabia than this—no kidding. Nature has carved the valley in such a beautiful fashion that even budget smartphones will be able to pull out the most insta-worthy shots.
View this post on Instagram
5. Red Sands
Wadi Rum in neighbouring Jordan is hugely famous for its sand that has a Mars-like red colour. Across the border here in Saudi, you'll find sands that look almost exactly like the ones in Wadi Rum, and yes, they're in the Tabuk Province in a place called Bajdah. The next movie on Mars could possibly be shot here—it's that similar. Hollywood movie scouts, are you seeing this?
View this post on Instagram