Latest
A Restaurant In Saudi Is Offering Free Meals To All Who Can't Afford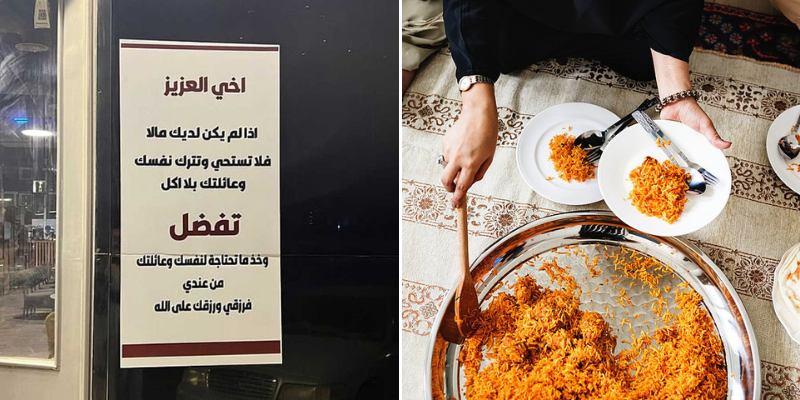 Arab generosity is famous but very rarely do examples of the place's legendary magnanimity make it to the internet. One, however, just did.
A restaurant in a town called Rafha that's located near the Iraqi border has won Twitter by giving free meals to the poor.
They have put up a notice outside their restaurant that states "If you have no money, don't be ashamed and leave yourself and your family without food. Please come in and take what you and your family require."
مواطن سعودي صاحب مطعم في رفحاء:

"إذا لم يكن لديك مالاً، تفضل وخذ ما تحتاجه لنفسك وعائلتك من عندي" ♥️🇸🇦👏🏻👏🏻 pic.twitter.com/2FFbBylqmb

— WHR (@whrumor) August 12, 2022
Responding to queries if it's a marketing gimmick the owner of the restaurant, Badr Al Shamari, speaking to a local media portal Sabq stated "The aim of the initiative is to gain Allah's contentment and not to seek marketing or publicity."
But the restaurant did become popular and now almost everyone in the country is talking about it.