Feature
Jason Derulo Had Nothing But Good Things To Say About Saudi Arabia After His Azimuth Concert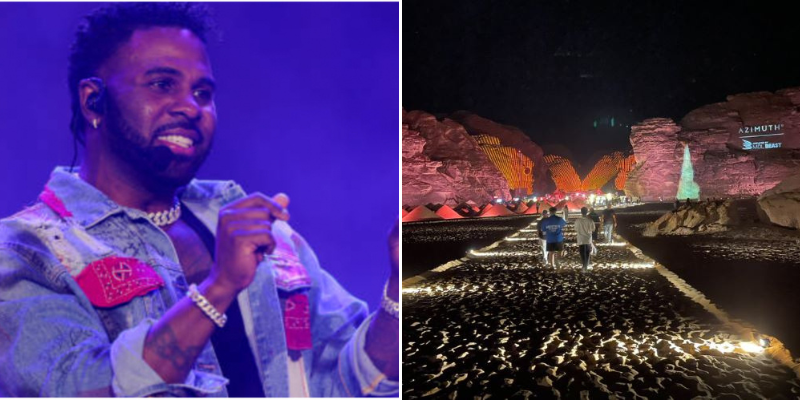 Pop sensation Jason Derulo was in town this National day for his debut in Azimuth AlUla
غَمَرَت طاقة الفرح اليوم الثاني من #أزمث_العلا 2022، حيث أشعلت 10 عروض موسيقية الأجواء بقيادة النجمين الكبيرين: @jasonderulo و @parov_stelar ⚡#لحظات_العلا pic.twitter.com/Fv2a1kt2W4

— AlUla Moments لحظات العلا (@AlUlaMoments) September 25, 2022

This isn't the first time the artist performed in Saudi Arabia, as his performance in 2018's FIA Diriyah Formula E was quite the success! Derulo was in town this past weekend for AlUla's Azimuth music festival which featured big names like DJ Snake, Disco Misr, Majid Jordan, Kayan, and more!
After the concert, Jason went on to praise AlUla for its amazing energy and unique experience
What an unique experience 😍🎇#AZIMUTHAlUla pic.twitter.com/OwMBXhMBIC

— Malak B⚕ (@Malak_MB) September 24, 2022

In an interview with Arab News, Jason said "Any time that I can spread the word about how incredible this place is, I jump at the opportunity, and this is another one of those opportunities." The singer even mentioned how he was in such awe of the crowd, that lead him to INSTANTLY pull out his phone and document the amazing energy during the concert. Jason also praised AlUla' natural beauty by saying, "here you get to really see all the stars, you get to see all the rock, the mountains, you get a piece of that world. Then you bring the highest level of luxury to it and it's just a blend of worlds that you can't get anywhere else." Looks like the fans weren't the only one's that had all the fun!