Feature
Live Out An Adventure With These 5 Unique Activities In AlUla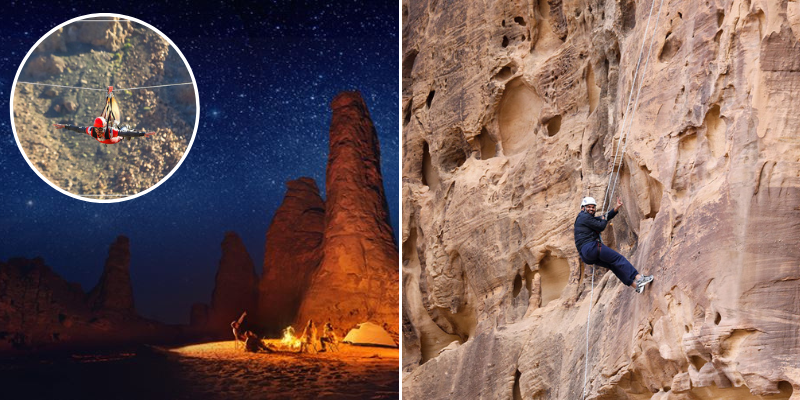 Summer is finally here and that means you need a list of activities to satisfy your adventurous spirit and these five activites in AlUla are the answer
View this post on Instagram
Direct flights from Riyadh to AlUla are offically operating!! Flydubai ALSO offers two weekly direct flights from Dubai to AlUla. AlUla is situated in the north-western area of the Kingdom, and has become the latest hospot. From the coolest trampolines in the desert, to an A-list fashion show, AlUla is where everyone wants to go. These five activities are not only fun but give you the perfect excuse to drive on over and see the famous attrations of the region. Make sure to take pictures with Maraya, the largest mirrored-structure, the amazing rock formations, and the beautiful sparkly stars at night.
1. Helicopter Tour
View this post on Instagram
Not a fan of hiking? Then you need to book yourself a helicopter ride around the area for the most BEAUTIFUL views. The regions vibrant sands, unique rocks, and grand desert looks AMAZING from above. Enjoy the butterflies in your stomach while looking right down at the views from up above! The tour costs 500 SAR and lasts for around 30 minutes.
2. Zipline
View this post on Instagram
This Zipline covers around 1.5km at the speed of 120 km/h and gives you the coolest views of AlUla. Tickets start from 180 SAR and run from Tuesday to Saturday at 5:30pm and 6:30pm.
3. Horse Trail Experience
View this post on Instagram
If you've always wanted to ride a horse and never got to, then head over to AlUla NOW because they offer a horse trail experience where you can walk through the beautiful parts of the region.
Prices start from 90 SAR.
4. Stargazing
View this post on Instagram
Pack an overnight bag and some coffee to stay up at night and admire the stars. You can sit around a nice campfire accompanied by a dinner with your group of friends and family. Put your phones on night more for this fun! Prices start at 330 SAR, so book your slot here.
5. Rock Climbing
View this post on Instagram
If you're a fan of physical activity then climb AlUla's rock-mountains for just 120 SAR. You'll be secured by a harness, so enjoy the fresh-air and beautiful views up high.