Announcements
Makkah's Governor Plans To Be The FIRST To Book An Accommodation At 'The Line'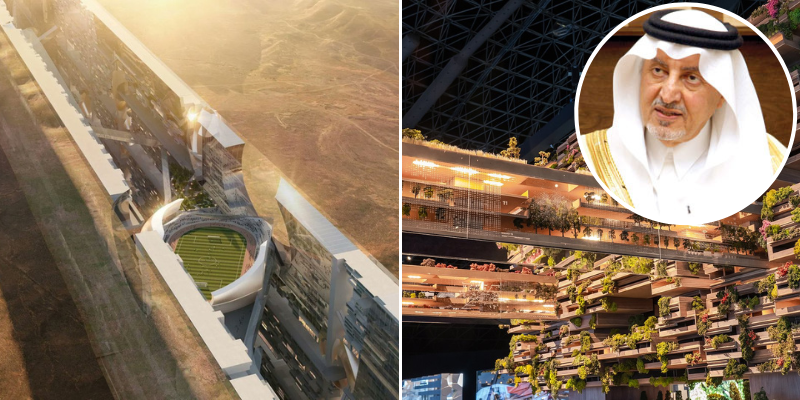 Although only a few weeks since their announcement, Neom's upcoming city of The Line has generated a BUNCH of fans and Makkah's Governor is one of them
Makkah Governor #Khaled_Al_Faisal expressed his appreciation for The Line project at #NEOM:

"I will be the first to book an accommodation in this city 🇸🇦😍". pic.twitter.com/40c422gq45

— محمد فيصل🇸🇦 (@MFoysalOfficial) August 11, 2022

On a visit to the Jeddah Superdome exhibition of The Line, Makkah's Governor Prince Khalid Al-Faisal made plans to invest in the project ASAP. In a tweet right after his visit to the site, the Prince stated that he plans to book an accomodation at The Line as SOON as the project is complete.
The governor had toured around the Jeddah Superdome Exhibition of the city and was breifed on all the city's plans and innovative goals
Take a look at THE LINE in Jeddah, in an ⚡️ interactive experience showcasing the city in all its glory. See the future of urban living for yourself, as the experience travels to a new 🇸🇦 city soon. Stay tuned. 👀#TheLINE #NEOM pic.twitter.com/ohTXJwdK4e

— NEOM (@NEOM) August 7, 2022

Official blueprints and 3D models of this city were recently unvelied by the Crown Prince Mohamamd Bin Salman, who talked all about the 170 kilometer long city in a video. Starting today, the exhibition will also take place in other cities including Riyadh and the Eastern Province.