Feature
The Skies Of AlUla Lit Up With The Most Magical Drone Show Of The Season!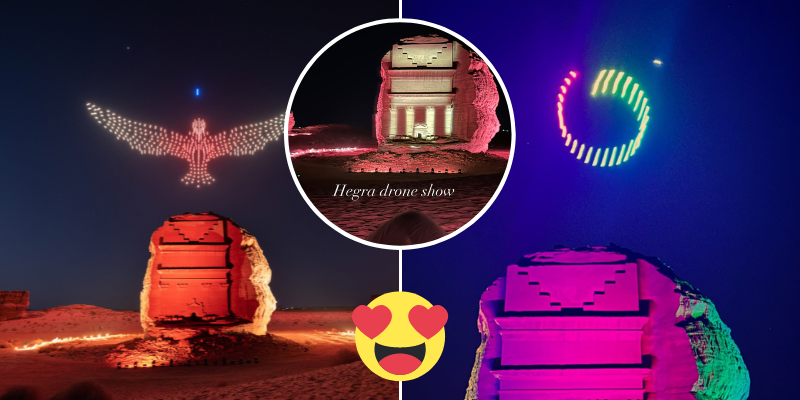 AlUla held an outstanding show atop the famous 'Hegra' with over 400 drones that made some stunning designs
The sky alight with drones above the monolithic Tomb of Lihyan son of Kuza, #Hegra's Drone Show brought awe and wonder to #AlUla#AlUlaMoments

— AlUla Moments لحظات العلا (@AlUlaMoments) October 14, 2022
The region organized a three-day drone show this past Thursday as part of the Wellness Festival. Known as, "The Silence of Light," the show featured around 400 drones that flew 200 meters high in AlUla.
The show was organized by SKYMAGIC Drone Shows which made these awesome images
The Silence of Light: an artwork by SKY MAGIC, produced by @BalichWS…

It was an honour to have the opportunity to design a performance that responds to the powerful, historical setting that is Hegra. #AlUlaMoments @AlUlaMoments #Hegra pic.twitter.com/rxlg5JaEz5

— SKYMAGIC Drone Shows (@Skymagicdrones) October 14, 2022
A HUGE eagle, cool geometric designs, and a fireball literally straight out of an anime show lit up the skies around Hegra
Hegra Drone Show ✨✨✨

Truly magical moment! #AlUla pic.twitter.com/kTbdrLnThx

— Laura Alho (@blueabaya) October 15, 2022