Feature
These Pictures Of Snow In Saudi Will Definitely Get You In All The Winter Feels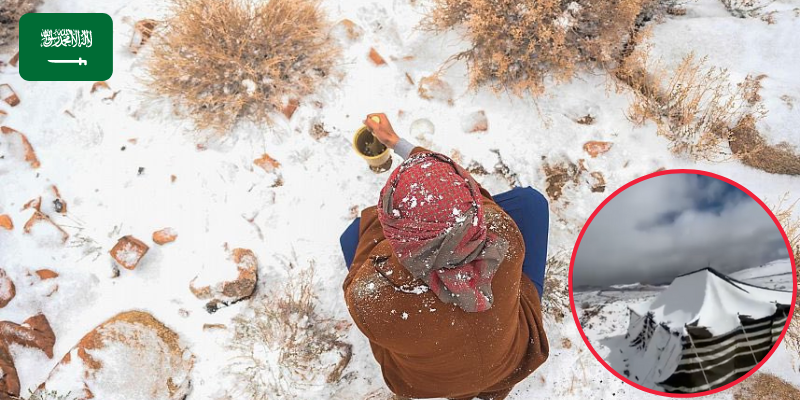 Most people don't know that Saudi Arabia, one of the hottest places in the world, also witnesses heavy snowfall during the winters. That's right guys, the Northern area of Tabuk is already blanketed in white, and people are stunned 😍
Images of these totally frosty camels have been circulating the internet
In #SaudiArabia , Tabuk area, the camels enjoying the snow. pic.twitter.com/pJWfFjwevO

— Dana Levi דנה🇮🇱🇺🇸🇬🇧 (@Danale) December 26, 2022
Just look how cute!
You can also see sand between the snow which makes the coolest effect
Snow Covers Tabuk's Jabal Al-Lawz at Dawn; #SPAGOV Covers Event.https://t.co/FhAmTfzkcy pic.twitter.com/8uwEW3bLgo

— SPAENG (@Spa_Eng) December 27, 2022
Who would've though you'd find snow right over the desert sand? The mountain of Jabal Lawz has officially turned white this past week, as the region witnessed heavy rainfall.
Okay, this place is definitely worth a winter vacay 👀
Saudi Arabia Tabuk province Snow storm last night pic.twitter.com/h2LQAEVPg0

— د. صالح بن محمد بن صالح الراجحي (@salehmalrajhi1) December 27, 2022
Watching this person enjoy the snowfall makes it absolutely tempting to drive on up and witness Saudi turn white.
Look at the tents 😱
#SaudiArabia : Tent pitched deep in the snow in #Tabuk region #تبوك_الان pic.twitter.com/raSkZTXXds

— sebastian usher (@sebusher) December 27, 2022