Sports
Details Of The New 2021 Dakar Rally Route Running Through Saudi Arabia Have Been Finalized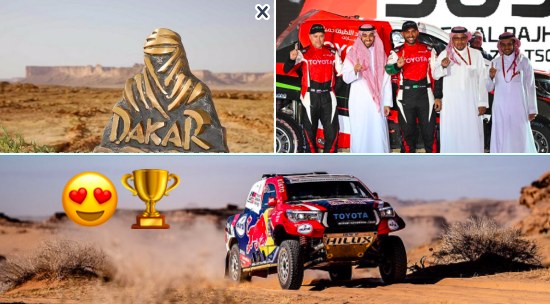 The Ministry of Sports has announced that the Kingdom of Saudi Arabia will be hosting the Dakar Rally again –  for the second year in a row.
The Dakar Rally 2021 will take place between January from 3 to 15, in coordination with the Saudi Automobile and Motorcycle Federation
The Dakar Rally organizers have has released details of the route for the 2021 edition, featuring nearly 5,000 competitive kilometers divided into 12 stages that are "80-90% new".
في كل يوم نجني ثمار رؤية 2030 ونشعر بها واقعا بفضل دعم واهتمام لا يتوقف من قيادتنا 🇸🇦..
هذا الدعم منحنا فرصة أكبر لاستضافة المزيد من الأحداث العالمية الكبرى..

أهلاً بالعالم في #داكار_السعودية2021#Dakar2021 pic.twitter.com/75wgfNR5if

— عبدالعزيز بن تركي الفيصل (@AbdulazizTF) November 25, 2020
The rally will start from Jeddah and cross a distance of 7,646 km, passing through Bisha, Wadi Al-Dawasir, Riyadh, Buraidah, Hail, Sakaka, NEOM, Al-Ula, and Yanbu before reaching the finish line in Jeddah again on Jan. 15.