Latest
The Stakes In Tonight's Race Are Even Higher After Yesterday's Qualifying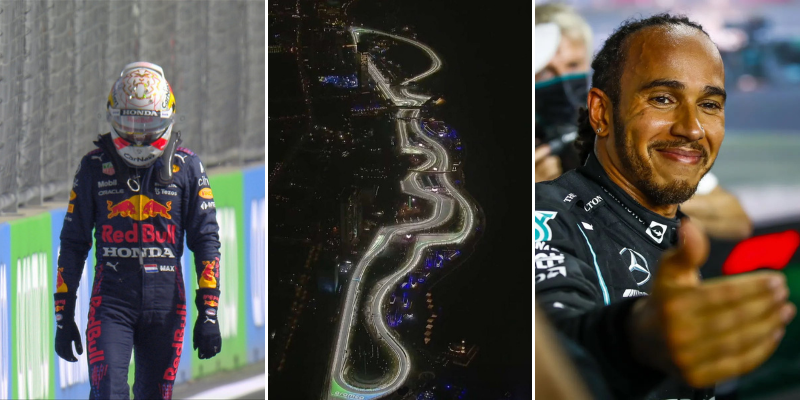 This year's F1 Championship is going down the wire.
If you're heading to the race today, this brief rundown of the stakes for tonight's race could be useful.
Red Bull Honda Driver, Max Verstappen, slammed into the wall on the 27th and last turn of the Jeddah Corniche Circuit during yesterday's qualifying, giving Lewis Hamilton and Mercedes the pole position for the maiden Saudi Arabian Grand Prix. Hamilton's Mercedes teammate Valtteri Bottas, then moved to second thereby locking the front row. Verstappen could've finished atop the leaderboard had he not crashed in the last turn.
In an F1 season that's had its fair share of drama, the #SaudiArabiaGP qualifying was no different..

Max Verstappen was seconds away from stealing a potential pole position from Lewis Hamilton before this happened 😱pic.twitter.com/S4xZKbMUL4

— SuperSport 🏆 (@SuperSportTV) December 5, 2021
 "What a tough track this is, incredibly technical and complex," Hamilton commented. "It's amazing what they've built here, track-wise the speed and the pace around here is phenomenal."
Verstappen and Hamilton, the two title rivals, are separated by eight points. If Verstappen wins tonight and Hamilton ends at seventh-place, then Verstappen would be bagging his first-ever Formula One championship.
Now that Verstappen's car has crashed and if Red Bull is forced to make extensive changes then that means a penalty for on the starting grid. This, plus the fact that Mercedes has locked up the front row makes Verstappen's win really difficult.
So, in all likelihood, the Formula One title will not be determined tonight; instead, it will most likely be decided at the year's last race in Abu Dhabi. But all eyes will be on Hamilton tonight to see if he can shrink the deficit even further since he has already reduced the point differential from 11 to 8.
So yes, it will be an exciting race, and there will be a spectacular concert following it, with Justin Bieber on the bill. Bieber was papped at Jeddah's airport last night.
View this post on Instagram