Best of
The 5 Best Saudi Theme Parks To Visit This Summer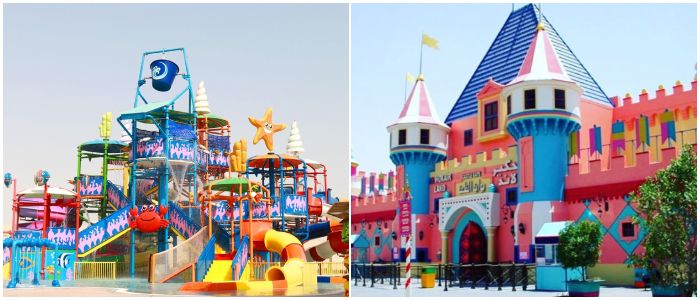 Nothing says summer like the sound of roller coasters, water splashing and carnival foods. Fun for kids and adults alike, amusement parks are a favourite summer pastime and luckily there are many Saudi theme parks where everyone can feel like a kid again. Whether it's water fun and massive slides, to coasters and adrenaline-pumping rides, there's something for everyone.
Here are 5 Saudi theme parks to visit this summer:
5. Green Mountain Park, Taif
You'll feel super nostalgic for your childhood days at this classic theme park in Taif. Though you won't find gravity defying rides or epic coasters here, it's chock full of quintessential carnival rides like a carousel for the littles, a giant Ferris wheel, and other dizzying fun rides that'll make your head spin — in a good way of course.
View this post on Instagram
4. Al Hokair Land, Riyadh
With its castle-like facade, there's nothing but fun to be found inside this Riyadh favourite. Inside you'll find a variety of rides and games, from arcade-style fun to stomach-lurching rides and bumper cars. The mini Eiffel Tower is also a major draw, making it the ultimate selfie spot. Plus, you can sometimes have a girls day out with the parks occasional ladies-only days.
View this post on Instagram
3. Atallah Happy Land, Jeddah
As the name suggests, you'll be sure to leave this theme park with a smile on your face. The large scale theme park boasts over 25 different rides, like a giant half-pipe coaster and the 20-meter high sky loop. In addition to the larger rides, you've got the classic pirate ship, dancing fountains, and some indoor fun like climbing walls to keep the family entertained all day long. There are also many options for food and refreshments to keep you fuelled for the outing.
View this post on Instagram
2. Loopagoon, Half Moon Bay
The Eastern Province is home to the First Ladies-only water park in Half Moon Bay. If you're looking for a girls day out or a mom and kids outing, look no further. Loopagoon is a mega-sized waterpark that will help you stay cool all summer long. Instead of coasters, you'll get your adrenaline rush with jumbo water slides, wave pools, as well as splash pads and a lazy river for some calmer fun.
View this post on Instagram
1. Al Shalal Theme Park, Jeddah
Overlooking the beautiful Jeddah waterfront, Al Shallal is the ultimate saudi theme park. It's like Saudi's answer to Disney World. Coaster lovers will love thrill-inducing rides like the aptly names sling shot and super shot — definitely not for the faint of heart. Younger kids can have as much fun with bumper cars or the spinning tea cups and much much more. The huge park has ample facilities for dining and also holds ladies days sometimes.
View this post on Instagram
READ NEXT: Amr Diab Is Performing At A Historic Jeddah Concert This Summer