Community
A Man Has Been Arrested At Makkah's Grand Mosque During Friday Prayers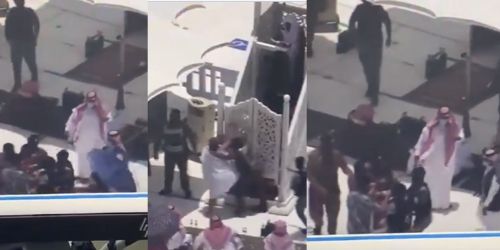 The Makkah region police have arrested a man at the Grand Mosque.
The man, in an Ihram, was seen charging towards the pulpit from which the imam was delivering the sermon before Friday prayers
CCTVV footage shows the incident.
The Grand Mosque's Security Forces arrested a man who tried to reach the pulpit from where the imam was delivering his Friday sermon #lovinsaudi pic.twitter.com/ldoMA3Kyrq

— Lovin Saudi (@LovinSaudi_En) May 22, 2021
The man, dressed in an ihram and brandishing a stick, was quickly apprehended and legal procedures against him have been taken.
Further details have not been shared by the security authorities.
The holy city of Makkah was been hit by heavy rains, hail, and flash flooding earlier this week.
And social media is now full of videos and images of the extreme weather condition that took place
Floods now in Makkah سيول مكة الآن pic.twitter.com/wLSVA5YTQL

— AbdurRaheem McCarthy (@shmccarthy) April 27, 2021