Food
5 New Cuisines In Riyadh To Try This Weekend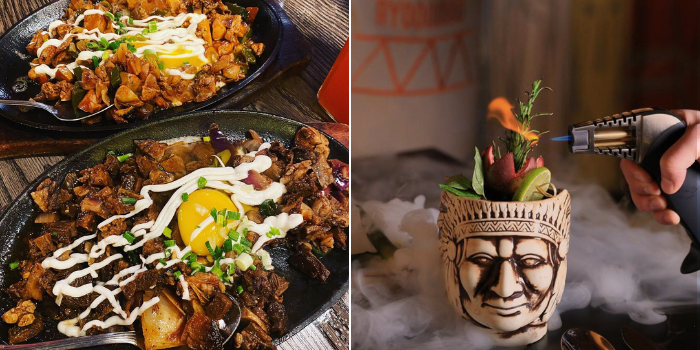 There's burgers, pizzas and of course, there's the time-tested Arabian fare like kabsa and mandi but if you're craving something new this weekend, then we've come up with a list to show to present to you with something new to try.
Riyadh is a melting pot with people of so many backgrounds, cultures and nationalities calling the city home. For many of us Riyadhis, that means that we've got so many different cuisines to try. So let's dig straight in!
1. African Cuisine At Ayo
Dining here is an experience filled with live music, beautiful culinary presentation and creative dishes up for a try. This is a sensory experience that you've got to experience at least once.
View this post on Instagram
2. Sri Lankan Cuisine At Ceylon Restaurant
The place is small, so you should ideally be bagging food boxes from this restaurant. The menu is surprisingly pretty big considering the restaurant's size that includes a host of favorites from the island nation including Kottu Paratha and String Hoppers. Remember to wash it all down with a cup of authentic Ceylon tea for that complete Sri Lankan experience. On your way out, pick up some fried snacks; the spring rolls, we must admit, are outstanding.
View this post on Instagram
3. Filipino Cuisine At Lapaz Batchoy
It's no secret that we've got a sizeable Filipino community here and they do have a host of restaurants serving authentic Pinoy fare. Lapaz Batchoy has outlets all across the kingdom and it's the first name that comes to mind here when you think of Pinoy food in the city. The best part is that you can order combos and that will allow you to try multiple dishes at once.
View this post on Instagram
4. South Indian Food At Saravanaa Bhavan
You've obviously tried Indian cuisine in Riyadh but South Indian cuisine that's a whole different ball game right there. You won't find boti kababs or butter chicken on the menu instead you'll be treated to an array of dosas, uttapams and idlis. If those dishes sound foreign to you, then you're seriously missing out on some uh-mazing vegetarian fare right there.
View this post on Instagram
5. Armenian Cuisine At Lusin
It's all about the evocative aroma and tantalizing flavors here at Lusin which is surprisingly popular considering that it serves cuisine from a country whose food to put it simply is not well known. The foods here are pretty similar to what you've always eaten, so they don't appear entirely unfamiliar, but the beauty lies in the slight variations in spices and preparation.
View this post on Instagram