Food
5 Riyadh Restaurants You've Got To Try For Unique Lunch Experiences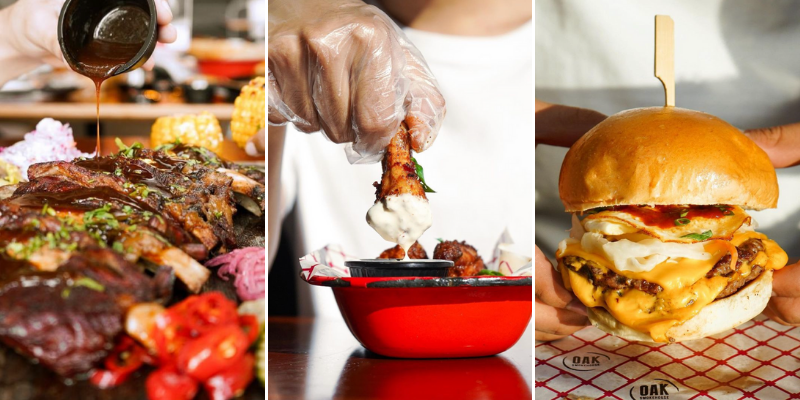 If you're tired of the regular burgers, sandwiches and grilled chicken with rice, then you probably should be reading on. We've prepared a list that's got you covered for all five days of the week.
Oak Smokehouse
For meat lovers there's nothing like slow-cooked meat and that's precisely what you'll get here. So tender and soft that it almost melts in the mouth. So gorge on those array of meats for an absolutely satiating lunch. We highly recommend their brisket mac and cheese. Before they opened a branch in Riyadh, Oak Smokehouse was a pretty popular restaurant in Al Khobar – you're Sharqiya friends can probably testify to this.
View this post on Instagram
Lalingi
We promised you a different lunch in the headline and that's exactly what this place offers.. You'll be able to enjoy some of Iraq's most celebrated delicacies here. The bewildering range of tastes will make you feel like you' on a street food tour of Baghdad. Even thinking of the food here is giving us those hunger pangs.
View this post on Instagram
Al Balad
Yopu're probably accustomed to having Lebanese food for lunch but have you had kebabs with cherry before? The dish is hugely popular and with good reason. Don't be surprised if clones of this dish starts springing up in other Lebanese eateries in the city.
View this post on Instagram
Makbous Express
Satiating, delectable and light on the wallet – that's the magic three most of us need for lunch and Maskbous Express gets high marks on each. Makbous is a dish that's hugely popular in Sharqiya and neighboring Bahrain. If you haven't tried it yet, then today's lunch just might be time you'd wanna try it.
View this post on Instagram
Najd Village
This is one of those places that you shouldn't be going if you want a quick lunch. It's super cosy, where you'll want to dig into your food slowly and have a proper three course meal. The reason why it's on our list is 'cus it's got some traditional delicacies normally made by grandmoms and rarely found in restaurants/ Think of latazeez, margoug, sabeeb and qishd. If those names sound foreign to you, then oh boy, you're in for a treat.
View this post on Instagram