Jeddah
Jeddah's Super Dome Just Made It To The Guinness World Records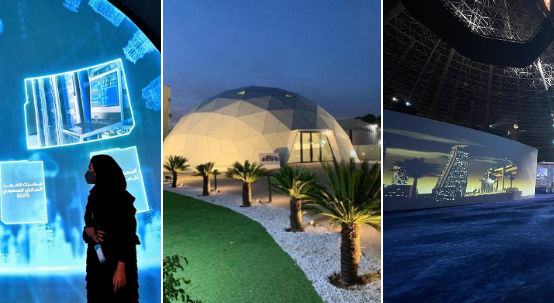 Jeddah just made it into the Guinness World Records and it is so exciting!
Jeddah's brand new Superdome has claimed the Guinness World Records titles for the world's largest geodesic dome and largest dome with the continuous roof
Jeddah Superdome officially opened its doors on June 9, 2021.
The Superdome is a brand new multi-purpose event space and is all set to play an integral role in the upcoming Jeddah Season events program.
Expect live shows, concerts, sporting events, brand activations, and exhibitions
رقم قياسي آخر يضاف للتحفة المعمارية #جدة_سوبردوم بجانب أكبر قبة بلا أعمدة لتصبح أكبر قبة جيوديسية في العالم pic.twitter.com/K64mNd4QGE

— جدة سوپردوم (@jeddahsuperdome) June 15, 2021
The first event to take place at the Superdome was the Makkah Digital Projects Exhibition
It was a super hit!
#معرض_مشاريع_مكة_الرقمي #قبة_جدة pic.twitter.com/2j2lxJxSF4

— قبلة الدنيا | مكة المكرمة (@makkawicom) June 11, 2021
People have only good things to say about the venue
سعدت اليوم بزيارة المعرض الرقمي لمشروعات #منطقة_مكة_المكرمة والذي يقام في قبة جدة . معرض متميز في موقع مميز يعتمد على التقنية الرقمية في عرض المشروعات الضخمة التي يتم تنفيذها في منطقة مكة المكرمة برعاية اميرها خالد الفيصل pic.twitter.com/7FT8fV1VI2

— 🇸🇦جمال عبدالله الهندي 🇸🇦 (@jamal_hindi) June 14, 2021
سعدت بزيارة هذا المعرض الجميل والاطلاع على مشاريع وجهات متنوعه تخبرنا بمستقبل باهر ومزدهر باذن الله #معرض_مشاريع_مكة_الرقمي pic.twitter.com/Zur86TN2Ng

— فهد الحسني (@fahaadz4) June 14, 2021