Latest
20,000 Jobs Are Being Created For Saudis In Customer Service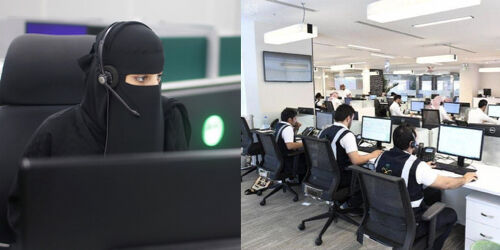 A decision to hire only Saudis in remote customer service came into effect earlier this year and serves to create 20,000 jobs by the end of 2022.
Already, the decision has created more than 8000 jobs
The decision was announced in February by  Minister of Human Resources and Social Development, Ahmed Al Rajahi, to limit remote customer service jobs to just Saudis.
This decision applies to all establishments in the kingdom whether the establishment has directly contracted the employed or indirectly through a communication centre.
The Ministry of Human Resources has also recently disclosed a plan to localise the kingdom's real estate sector, designed to provide over 11,000 jobs for the Saudis.
The Ministry of Human Resources and Social Development has issued the procedural guide for the decision to implement Saudization in shopping malls across the Kingdom.
The new decision will come into force on August 4
The announcement clarified the decision to Saudize most jobs in shopping malls with the aim to create 51,000 additional jobs for Saudis.
The first decision is to allot 100 percent of jobs to Saudis in all activities and professions in malls as well as at mall management offices, excluding a limited number of activities and professions. The exempted activities and professions include cafes and restaurants where the rate of Saudization shall be 50 percent and 40 percent respectively.
Hypermarkets and supermarkets are also exempted
Other professions that are excluded from 100 percent Saudization are cleaning work, loading and unloading, maintenance of recreational facilities, and barbershops.
The ministry said that punitive measures will be taken against the violators after the end of the grace period. There will be penalties for two types of violations: hiring non-Saudis in professions restricted for Saudis and penalty for the failure to implement the percentage of Saudization.