Latest
5 Beautiful Coral Reefs In Saudi Arabia That Are A Diver's Paradise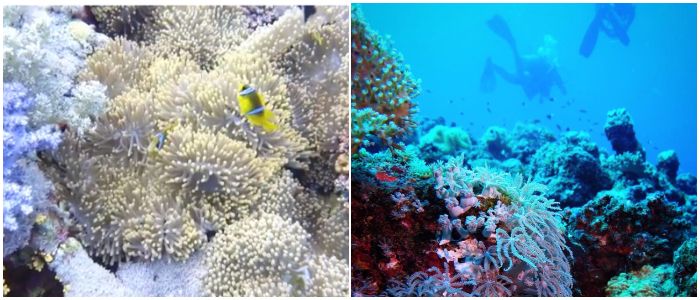 Beautiful Saudi Arabia has some stunning beaches with gorgeous sand and kilometres of pristine coastline. But a little-known secret — what's under the turquoise waters can be even more stunning. There are numerous coral reefs in Saudi Arabia that can offer the most incredible, fascinating and beautiful diving experiences.
Here are 5 coral reefs in Saudi Arabia that are a diver's paradise:
5. Farasan Islands
The lush Farasan Islands are super eco-diverse both above and below the sea. Located a short ride off the coast of Jazan, the islands have beautiful, virtually untouched coral reefs swimming with many different types of fish, crabs and other aquatic life. You just might even spot a shark.
View this post on Instagram
4. Abu Tair
If you're in an exploratory mood, check out some old shipwrecks at Abu Tair off the coast of Jeddah. It's home to the Staphonos, a ship which sunk in the late '70s. The ship is tilted on it's side so divers say you can see it quite clearly from the sunlight above. It's said you can spot some sharks and stingrays here.
View this post on Instagram
3. Jebel Al Lith
Located about 200 kilometres south of Jeddah in the Red Sea, the Jebel Al Lith or "Lion Mountain" is the spot to go to if you want to see some giant whale sharks in action. Definitely not for the faint of heart, but cool if you want to say you've swam with sharks! You'll also be captivated by the colourful coral reefs.
View this post on Instagram
2. Abu Madafi Reef
North of Jeddah, this coral reef is home to the coral wall and many shipwrecks, notably the Boiler Wreck. It's about 100 years old and now the ship is covered in coral making for some stunning views. This is definitely a great choice for some more advanced divers as the current can be strong. You'll get a chance to see large schools of fish, rays and more.
View this post on Instagram
1. Yanbu
Off the coast of the ancient port city of Yanbu you'll find exquisite diving opportunities. Here you'll find the "Seven Sisters" coral reef chain, which is among the most beautiful in the world. Divers have been known to spot hammerhead sharks! The reefs are vivid and beautiful and you may even come across one of a number of shipwrecks.
View this post on Instagram
READ NEXT:10 Photos That Show Just How Incredibly Beautiful Saudi Arabia Is