Al-khobar
5 Khobar Dessert Spots That Always Have A Queue Out The Door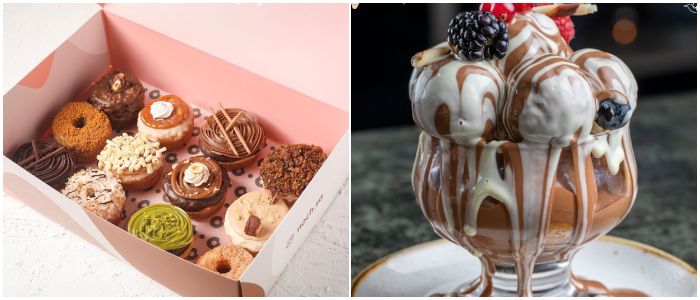 Ever wanted a whole cake to yourself without an occasion? Or are you the type of person that skips straight to the dessert menu before you've even decided on your main? If you're in the Eastern Province, you and your sweet tooth are in for a treat with some Khobar dessert spots that will exceed your sweet, sugary dreams.
Here are 5 Khobar dessert spots that always have a queue out the door:
5. Madeleine
Are you obsessed with macarons? The cute little French desserts are slightly crisp on the outside and melt in your mouth just perfectly. Good macarons that aren't too hard or too dry are hard to find, but Madeleine somehow manages to get them right every time. Their pretty dessert display is dotted with various flavours of the little sandwich-like cakes, including raspberry rose,  pistachio and a salted caramel. But these aren't bite sizes, these macarons are sized two feed at least two people! If you just can't get enough they have entire macaron cakes too! Yum.
View this post on Instagram
4. Vicoli Lounge
Vicoli is the type of place to go if you want to skip dinner and go straight for the dessert. They've got large portion sizes and the most decadent offerings including pistachio and lotus cheesecakes, fondue, milk cakes and their most popular offering — the famous Vicoli pops, which are little cake balls dripping with melted chocolate. You won't mind the lineup.
View this post on Instagram
3. Dantella Bakery
This little hidden gem has such a fan following there's often a long queue at the door to order cakes and sweet treats to share with friends. The presentation of their desserts is as amazing as they are tasty. Seriously, some of the desserts are so pretty you won't want to wreck them — but you will. Their pretty little petit fours are so melt-in-your-mouth good you won't be able to have just one and the cakes are so moist with the most perfect frosting, you'll want to have some even if there's no occasion.
View this post on Instagram
2. Pattis France
Don't want till the end of the night to get your dessert at Pattis. Made fresh in their kitchen daily, Pattis favourites such as their soft, light honey cake and their ultra-rich saffron milk cake are so popular, it's not uncommon for them to sell out well before the end of the day. Their pistachio cake is also heavenly.
View this post on Instagram
1. Noch
The cronut craze that famously started in New York City has finally landed at this Khobar dessert spot. If you're not familiar, a cronut is the perfect cross between a croissant and a donut. It's got the flakiness of a buttery croissant but the sweetness of a donut, without being too heavy. The perfect cronuts will be airy and melt away with a bite, and Noch has got them just right. With flavours like peanut butter and jelly, and rose paradise, you'll be buying a dozen before you can stop yourself.
View this post on Instagram
READ NEXT: 10 Recipes From Top Saudi Food Bloggers