Latest
5 Of Saudi Arabia's Beaches That'll Make You Dream Of Vacation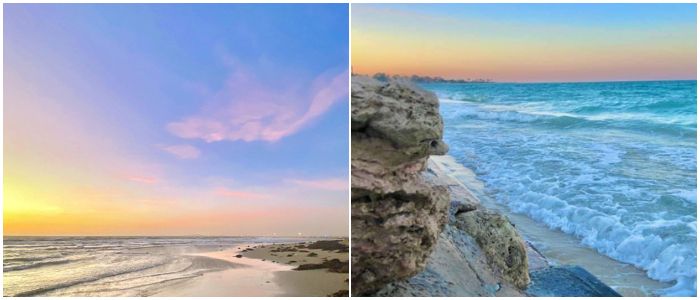 Saudi may be thought of as an endless desert and miles of towering sand dunes, but don't forget it's also got miles and miles of gorgeous coastline. Saudi Arabia's beaches are some of the most beautiful in the world and can rival any travel destination.
With the beautiful warm waters of the Red Sea to the west and the glimmering Arabian Gulf to the east, we've rounded up the most eye catching beachfronts the country has to offer.
Here are 5 of Saudi Arabia's beaches that will make you dream of vacation:
Aptly dubbed by many to be the "Maldives of Saudi Arabia," Umluj is truly spectacular. It has clearest turquoise waters and pristine white sand which is why it's such a good destination for water adventures like snorkelling and checking out coral reefs. You can also take a boat ride to check out some dolphins.
View this post on Instagram
4. Ras Tanura
Just about an hour's drive north of Dammam, you'll find the serene waters of Ras Tanura. A wonderful day trip within the Eastern Province, you'll find children's playground and a corniche to walk on alongside the beautiful blue sea. The warmer months are best for swimming and the waters offer some excellent surfing opportunities also.
View this post on Instagram
3. Kadambal Island
A small, little known spot, Kadambal Island is about an hours boat ride off the coast of Asir Marine Park in the Red Sea. The island centres around a large mountain in the middle, which adventurous hikers can climb. It's an uninhabited island meaning its super peaceful for those wanting to detox and disconnect. You can try your hand at diving or fishing and be sure to bring binoculars to do a spot of birdwatching.
View this post on Instagram
4. Al-Shuqaiq Beach
North of Jazan City, this picturesque beach is so peaceful you could walk alongside it for ages while dipping your toes in the water. A wonderful family destination, there's a nearby corniche with entertainment options for the kids, playgrounds and treats. Popular with locals, it also is an incredible spot for viewing the sunrise or sunset.
View this post on Instagram
1. Al Wajh
Feel like you're in the Caribbean, but without all the tourists. A hidden gem in the Tabuk region, Wajh is known for its fishing. Aside from the crystal clear waters, you can try your hand at fishing and visit the historic fishing village which has been compared to Jeddah's Al Balad. There are a number of beachfront resorts to choose from and you can even take some day trips to nearby Al Ula or snap a photo with the "camel rock."
View this post on Instagram
READ NEXT: 10 Pictures Of The Beaches In Umluj That Will Make You Want To Cancel Everything And Head There ASAP