Feature
5 Restaurants In Riyadh That Give You An Authentic Saudi Experience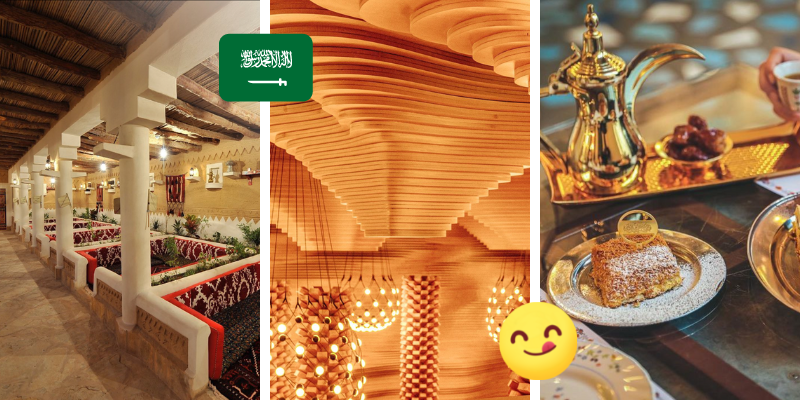 Saudi is full of the most delicious dishes from all different regions the Kingdom. These delicacies take your taste buds on a memorable journey of flavors, spices, and sweets 😋. What better way to enjoy the nation's traditional meals than to sit in an authentic Saudi setting, experiencing its culture to the fullest 🙌? These restaurants are the top places to enjoy a great meal, stunning interiors, and witness authentic Saudi culture 🇸🇦.
5. Tameesa
View this post on Instagram
This place has the perfect ambiance to enjoy a proper traditional Saudi meal. From the tupperware, interiors, to the menu selection, this place is all things Saudi. Tameesa takes you back in time, where you get to enjoy an authentic Saudi meal. Make sure to grab some yummy gahwa on your way out! 🙌
4. Takya
View this post on Instagram
If you want to know what sitting in a traditional Saudi household would look like, then this place is definitely a top pick. Takya has the most beautiful interiors to accompany your delicious meal. Aside from the traditional aspects, Takya also brings you a fusion of both old and new dishes, taking you on a flavor journey to remember.
3. Al Saudi
View this post on Instagram

This place is perfect if you're looking to take a good meal home. Saudi's are actually really big on families and community, and are known to dine in big groups on the weekends. This is when places like Al Saudi come in handy. Their wide selection of delicious dishes like Kabsa, Harees, Dajaj mashwi, and many more are totally worth grabbing with the squad.
2. Suhail
View this post on Instagram

This place is definitely a topper when it comes to the best experience of dining. Its stunning interiors bring a modern twist to Saudi's heritage and is definitely worth the visit. Suhail is known to take you on an experience of not only the delicious Saudi food, but also an opportunity to experience the lavish style and class of the nation. Riyadh is actually known for its fancy places, and Suhail is the perfect fusion to visit.
1. Najd Village
View this post on Instagram

This place will take you into absolute tradition as soon as you walk in and you need to head over there NOW. The setting creates the best vibe for you and your loved ones to enjoy Saudi's culture in the most authentic ways. Sit back on the floor-seating, and dine like a true local surrounded but the most beautiful decor.