Feature
A Bunch Of A-List Celebrities Flocked To Riyadh For The 2023 Joy Awards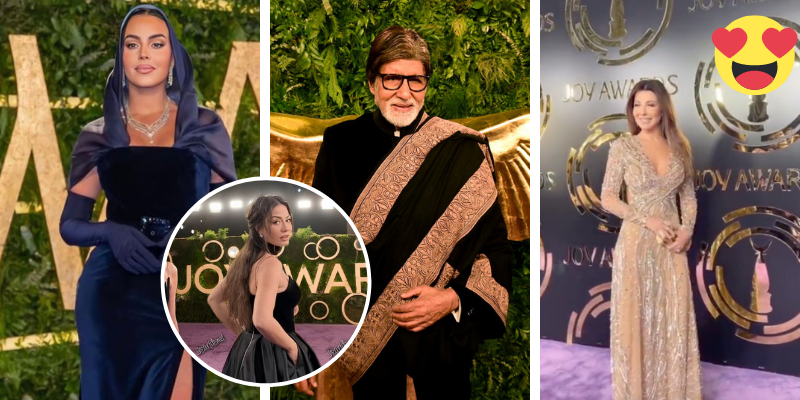 The Joy Awards came back for another season of a star-studded inflow of talent in the capital. Famous faces in the Arab, Hollywood and Bollywood world made their debut at the 2023 Joy Awards Riyadh, where the crowds went crazy.
Georgina made her statement with a stunning blue dress and also mentioned how she's totally loving Riyadh
جورجينا تخطف الأنظار في #JoyAwards 😍🔥pic.twitter.com/XZBRAzGE1R

— Gorgeous (@gorgeous4ew) January 21, 2023
The superstar shared her opinion on Riyadh with the 2023 Joy Awards, and how she thinks the capital is totally amazing.
Sofia Vergara also made her entry and won 'Person Of the Year!'
Congratulations @SofiaVergara for winning " Person of the year award " at #JoyAwards pic.twitter.com/cIJya6JNrR

— King Tam 👑 (@tamertakrourii) January 21, 2023
Bollywood legend Amitabh Bachan was also in attendance where he won the 'Lifetime Achievement' award 🙌
AB sir honoured with " Lifetime achievement award" .❤️

At #JoyAwards (Dubai)..#AmitabhBachchan @SrBachchan pic.twitter.com/BOXkV0wmOW

— Nikhil (@Nikkkkhhil) January 22, 2023
Ashraf Hakimi brought along his mother to these awards and they both looked amazing
اللاعب اشرف حكيمي جايب امه معاه 🥹#JoyAwards pic.twitter.com/CxDgBZA1sm

— ڤيوه (@VEOOOH) January 21, 2023
The legendary Moroccan Player won an award for 'Best Arab Player,' and also shared the cutest moment with his mother onstage 🥰.
Turkish superstars Demet Özdemir & Engin Akyürek also made their debut 🔥
وصول ديميت وانجين لحفل #JoyAwards 😍

— Gorgeous (@gorgeous4ew) January 21, 2023
Nancy Ajram also totally rocked the stage with her live performance
everyone's gonna remember when nancy ajram turned #JoyAwards into her own concert again ✨️pic.twitter.com/rrY33G1pnM

— Rod (@rodrenewed) January 21, 2023
Other famous faces like Shah Rukh Khan, John Travolta, Mohammad Abdo, , Tunisian actress Hend Sabry, Egyptian actress Yusra, and many more were seen enjoying at these prestigious awards.
The event was organized by the Saudi General Entertainment Authority and a big thanks went out to Chairman Turki Al Sheikh 👏
ليلة نتباهى بها ونفخر كشعب سعودي اصيل🇸🇦
نجزي فيها الشكر لعراب الرؤية ومانح الشعب مفاتيح الغد سمو سيدي #محمد_بن_سلمان
شكراً لرئيس مجلس إدارة #هيئة_الترفيه @Turki_alalshikh لإحتضانه حفل جائزة #صناع_الترفيه #JoyAwards#JoyAwards2023#برنامج_جودة_الحياة#عيشها #السعودية_العظمى pic.twitter.com/X4vJTJgEDX

— نـاصـر الـحميـدي (@alhamidi_nasser) January 22, 2023