Feature
A Pakistani Man Was Saved From Drowning In Wadi Bisha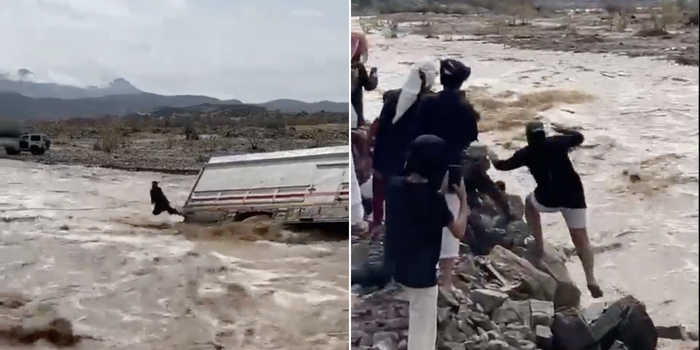 The Kingdom has witnessed quite heavy rainfall and flooding around the country over the past few days. The Saudi Civil Defense has also alerted people to avoid visiting valleys where rainwater gathers rapidly.
#لسلامتك ..
احذر عند هطول الأمطار. #الوقاية_أمان pic.twitter.com/Ly5inKu6k5

— الدفاع المدني السعودي (@SaudiDCD) March 13, 2023
A video has been circulating all over social media, where a man was seen rescuing another Pakistani from drowning in Wadi Al-Qahbiy.
The rescuer threw a rope to the man stuck in the middle of the valley
إنقاذ باكستاني في وادي القوباء غرب #بيشة.

— هاشتاق السعودية (@HashKSA) March 13, 2023
Although the Civil Defense has warned many about the dangers of visiting valleys during rainfall, people still tend to ignore the regulations, and end up in life threatening situations.
People responded with praise to the rescuer but also showed concern about the negligence
إنقاذ باكستاني في وادي القوباء غرب #بيشة.

— هاشتاق السعودية (@HashKSA) March 13, 2023
عليه غرامه لايعبر سيل الوادي الجارف شكر للمنقذين

— Ieiehr (@Ieiehr1) March 13, 2023