Latest
Brace Yourselves: The Temperature In Riyadh Will Dip To 1°C Tonight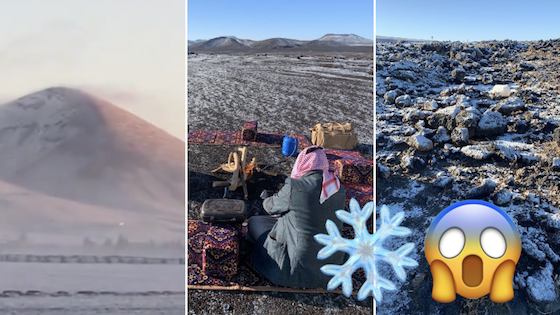 For those who have been carping that this winter hasn't felt like winter at all — it's definitely time to dig out those dusty sweaters and hoodies from the back of the closet since tonight is likely to be one of Riyadh's coldest nights in a long time. The National Center of Meteorology has forecasted that the temperature will dip to 1 degree today.
So it looks like we can finally say:
Other places in the kingdom's north will see sub-zero temperatures. It honestly would be great if they can predict snowfall in advance 'cus that's how we can actually be at a place before it snows and not be the ones who reach after the snow has melted and we're left staring at the desert once more.
We've got the cold wave to thank for brining some pretty extraordinary sights, like for the first time (at least in recorded memory) snow fell in the town of Badr, not far from Madinah.
Snow in Madina #Badr pic.twitter.com/HFudqVW8yh

— Hades & Makkah,Madina Update (@Syedautocad2004) January 15, 2022