Latest
Check Out This Game Of Thrones Themed Ad That's Trending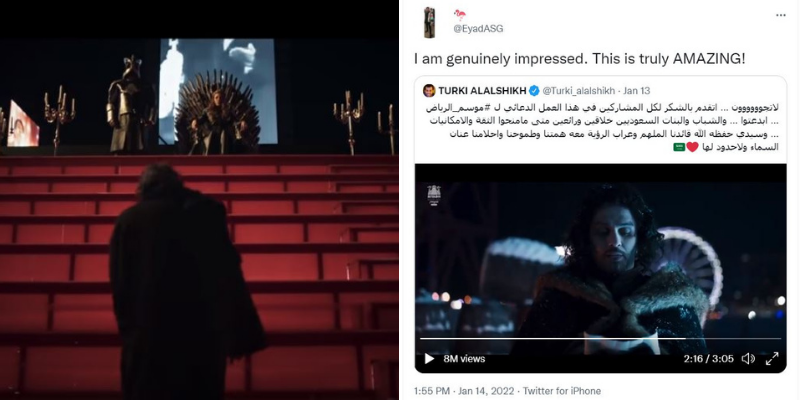 "Game of Thrones" fans rejoiced at the Riyadh Season 2022 advertisement, that was trending last Friday.
The launch of the new Riyadh Season 2022 was celebrated through scenes and clips inspired by the famous show. Fans took to Twitter to celebrate the excitement, applauding the creators and cast of the advertisement. Saudi royal court advisor, Turki Alalshikh stars as the Night King and is accompanied by other famous artists/actors of the Kingdom.
He tweeted his gratefulness to participate and experience such an important part of history, praising the capabilities and innovative minds of the Saudi community.
لاتجوووووون … اتقدم بالشكر لكل المشاركين في هذا العمل الدعائي ل #موسم_الرياض … ابدعتوا … والشباب والبنات السعوديين خلاقين ورائعين متى مامنحوا الثقة والامكانيات … وسيدي حفظه الله قائدنا الملهم وعراب الرؤية معه همتنا وطموحنا واحلامنا عنان السماء ولاحدود لها ❤️🇸🇦 pic.twitter.com/JwMGH4bt4C

— TURKI ALALSHIKH (@Turki_alalshikh) January 13, 2022
Saudi filmmaker Mohammed Almulla was the mastermind behind the advert, directing the famous clip which generated over 3.8 million views!
One Twitter user, Majed said: "As usual, Almulla is creative in his directing."
كعادة الملا مبدع في الاخراج 👏🏼 @AlMullaGraphy ❤️ https://t.co/kQQkSK1KMu

— ماجد (@MajedUtd) January 14, 2022
Other commentators also celebrated the diversity and creative space being brought into the Kingdom's society, allowing creators to go achieve such milestones.
What we couldn't even imagine in a day dream is a reality in the modern version of country, a notable Saudi cleric is heading the cast in a promotional film for Riyadh entertainment season ! https://t.co/LAcL952ZiL

— Fadila Al Jaffal (@FadilaAlJaffal) January 14, 2022
I am genuinely impressed. This is truly AMAZING! https://t.co/CppY4dGEwo

— 🦩 (@EyadASG) January 14, 2022
Riyadh Season itself has attracted over 6 million visitors since opening, and will continue on until March 2022.
View this post on Instagram
Check out the full ad here