Latest
Check This: The List Of 2021's Highest Grossing Movies In Saudi Cinemas Is Out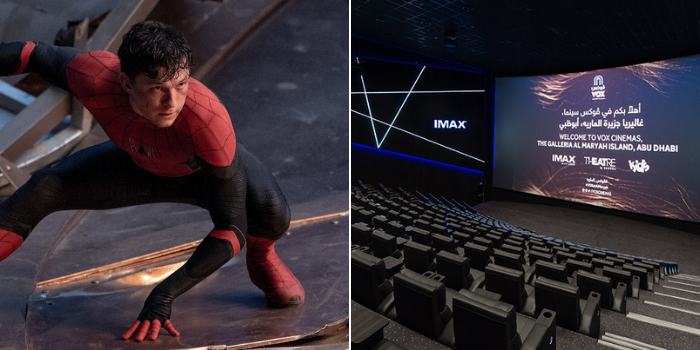 Cinemas are a new thing here but Saudi Arabia's last year's cinema ticket revenues show that Saudi Arabia has solidified its position as the Middle East's biggest market raking in a HUGE $238 million in 2021. That's a 95% increase from last year's total reports Zawya.
The UAE was the number two in the Middle East bringing in box office revenues totaling a sizeable $130 million.
Let's dive straight into the top movies that set the cash counters ringing in Saudi Arabia.
Wa'fet Regala " A Stand Worthy of Men," an Egyptian comedy film, came in first with almost $15 million in box office revenue. For Saudi Arabia, this is an all-time high.
I rated A Stand Worthy of Men (wa'fet regala) (2021) 10/10 #IMDb pic.twitter.com/wVjOus90Bx

— وَعد (@iWaadKhalid) March 9, 2021
Spider-Man Fever reached Saudi Arabia too as it came at number 2 with ticket collections of $11.2 million. It recorded a huge $5.1 million on the opening weekend alone.
Spider-Man: No Way Home is also #1 of all-time in Mexico ($33.3 million), Brazil ($18.6 million), Argentina ($7.1 million), Saudi Arabia ($5.1 million), Ecuador ($3.8 million), Ukraine ($2.5 million) and Turkey ($1.5 million).

He's your Friendly Global #SpiderMan!

— Rob Keyes (@rob_keyes) December 20, 2021
Emma Stone starrer Cruella landed in third place, registering a sizeable $9.1 million.
View this post on Instagram
Guy Ritchie's action flick Wrath of Man earned $8.3 million clinching the 4th position.
View this post on Instagram
Seeing the box office revenues here all we can say is that cinemas are here to stay, even in the age of Netflix.