Feature
Here Are 5 Exciting Ways To Spend This Weekend In Riyadh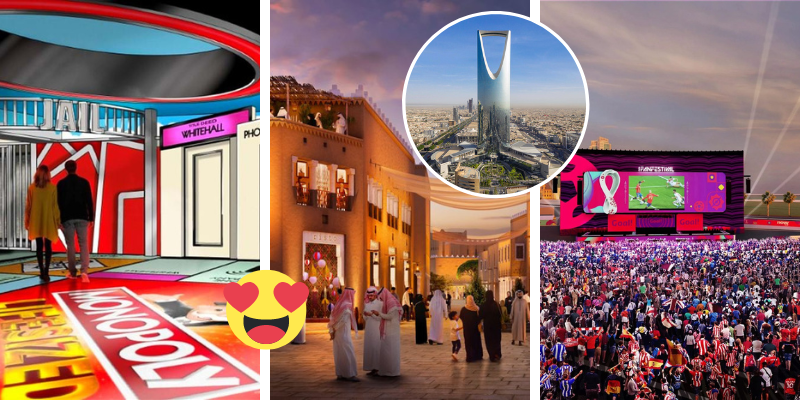 With Boulevard World taking you on a journey of a lifetime, the cool dining experiences in the capital's desert, to all the delicious coffee shops and restaurants the capital, Riyadh is THE place to be when spending a day off. These 5 activities will definitely keep you going in the best of ways this weekend 🙌
Grab this list, grab your squad and get to it 🎉
5. Watch the World Cup Quarter finals at the Fan Festival Zone
View this post on Instagram

The Quarter finals are finally here and it's time to cheer on your favorite teams. Come decked out in yellow for Brazil, wear all the blues for Argentina, or bring all your Arab pride for Morrocco on their match on Saturday to the Fan Zone 🎊
Friday, December 9th 2022: 
Croatia 🇭🇷 vs Brazil 🇧🇷- 6:00 pm
Netherlands 🇳🇱 vs Argentina 🇦🇷  – 10:00 pm
Saturday, December 10th 2022: 
Morocco 🇲🇦 vs Portugal 🇵🇹 – 6:00 pm
England 🏴󠁧󠁢󠁥󠁮󠁧󠁿 vs France 🇫🇷  – 10:00pm
4. Travel across different continents at Boulevard World
View this post on Instagram
If that plan to visit Paris never happened, grab your friends and head on over to Boulevard World because Riyadh bought Paris right to you. Take some cute pics near the Eiffel Tower, enjoy some delicious foods from Greece or Italy, or square dance with some of the people from USA 🎉 It's definitely a party in Boulevard World.
3. Witness the future at The Line exhibit
It's Riyadh's turn to experience THE LINE 🤩

From November 6, immerse yourself in our revolutionary city of the future with architectural models and the inspiration behind the vision.

🎟 Book your free ticket now: https://t.co/UMkoapCg7g#TheLINE #NEOM pic.twitter.com/MNAKsvAFHH

— NEOM (@NEOM) November 1, 2022

The Line has officially opened doors to Riyadh to showcase all the realistic exhibits of the upcoming project. Take some pictures of the beautiful displays as you walk through the future of what is known to be one of Saudi's most large-scale projects 🙌
2. Play life-sized Monopoly with friends
.@Hasbro's Monopoly Lifesized experience opens in #Riyadh, Saudi Arabia https://t.co/DP9Nm9QEdf pic.twitter.com/wOms1So2Xd

— blooloop (@Blooloop) December 7, 2022

This awesome attraction can be found at Riyadh Boulevard World and actually has a bunch of escape rooms, challenges, and games all perfect for you and your friends.
1. Enjoy a variety of restaurants with amazing views at Bujairi Terrace
View this post on Instagram
If you're a fan of all thing food with divine views, then Bujairi Terrace is worth visiting ASAP. With 20 different restaurants to choose from, you can take some amazing pictures of Al-Turaif while you decide where to eat 🤩.