Feature
Here Are 7 Of The Most Magical Pictures Of Saudi National Day's Fireworks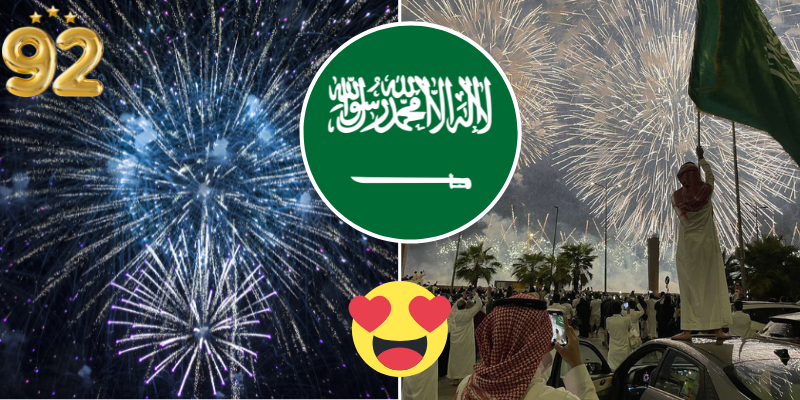 It was quite the long-weekend these past couple of days for Saudi National Day, and the whole Kingdom lit up in some of the most beautiful firework displays of the year!
The special day was celebrated this past Friday and featured the most amazing selection of events. From a stunning air show that painted the skies green and white, to the most magical sparkly lights of the evening fireworks, this National Day was definitely one for the books. Scroll through to see seven breathtaking pictures of the important day, that totally display how special and beautiful fireworks can really be. Take a look!
The hashtag #اليوم_الوطني_السعودي_92 has been trending all weekend and thousands of people have posted their pics all over Twitter
.

happy National Day 💚🇸🇦🎉#اليوم_الوطني_السعودي_92   #هي_لنا_دار_٩٢@AzizbagBag pic.twitter.com/vldtmVCllh

— ســـ؏ـــيــد الــســــمــ⚡ـــيـــن (@Ayq6A) September 24, 2022
The skies are lit up!
🤍 Happy 92th nationalday 🇸🇦#اليوم_الوطني_السعودي_92 pic.twitter.com/23AVoUvHst

— حلا | Hala (@Hala_mz20) September 23, 2022
This looks UNREAL
View this post on Instagram
This is the perfect picture of Khobar
Saudi National Day 92🇸🇦 #الخبر pic.twitter.com/f4XYPakYSW

— Wafa. (@MsaWfaa) September 23, 2022
Colorful skies here!
2022's Saudi national day 🇸🇦

We found the best spot to watch the fireworks ✨ pic.twitter.com/QvZ3FHS4VI

— مجد سامي (@majd_almithn) September 23, 2022
The corniche is totally sparkling
View this post on Instagram
A beautiful video to finish it off
without fireworks it ain't national day pic.twitter.com/7QYZpQt7Pf

— @ (@augfever) September 23, 2022