Feature
Here's A List Of Saudi's Best Cloud Kitchens You Need To Check Out ASAP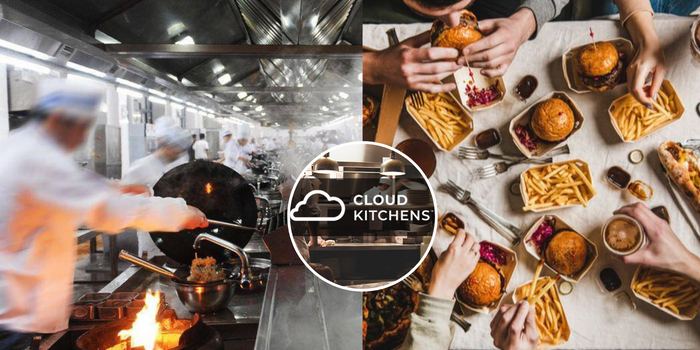 Ever heard of cloud restaurants or cloud cafes? Well, they've become quite the hot topic lately and have officially made this way to Riyadh. A cloud kitchen is basically a restaurant that consists of delivery only. This reduces pressures for decor, rent, and inventory cost usually necessary in most restaurants. Cloud kitchens create room for all small-business owners to launch their unique restos, at a small cost! So, grab this list of cloud kitchens in Saudi Arabia, and get in on the trend 🤩
Hybread
هايبرد | Hybread 🥟🍊
مطعم فطور سحابي لذيذ مختص بالساندويشات 🫶🏻
طلباتي ✨
– بوكس ساندوتش ميني😋
– ساندوتشات كبده بالجبن – فلافل-باذنجان- شكشوكه- جبن – حلوم 💓
– مناقيش جبن – زعتر 🌿 pic.twitter.com/dN35h0Mo5Z

— 𝑴𝒂𝒍𝒂𝒌 (@malakey_1) November 9, 2022

If you're a fan of bread, then add this restaurant to your favorites because Hybread is all things bread. It specializes in breakfast, sandwiches, and other delicious snacks you need to check out ASAP.
Qameen Bakery
View this post on Instagram
This spot is famous for its desserts, and delivery these moments of true happiness right to your doorstep.
Frsh
View this post on Instagram
You can have the freshest ingredients delivered right to your doorstep thanks to this place! Serving all things healthy, Frsh has the yummiest options of salads, sandwiches, and more. The next time you're feeling like a healthy menu is too difficult to make at home, order your favorite superfood dishes from this spot!
Joby Burger
View this post on Instagram

If you're over the whole McDonald's and Hardee's burger hype and want to try something different, try out this place. Joby features a yummy selection of burgers that really will make you feel 'love at first bite.'
Gorro
View this post on Instagram

Keep this restaurant saved for those Taco Tuesdays!This delicious spot is perfect to order from when you're at home with the squad, and are really feeling an impromptu taco night!
Baitdonya
نفهم جوع الظهر 😉. pic.twitter.com/la99AXeVu0

— بيت دُنيـا (@Bait_donya) July 27, 2022
Looking for an oriental twist? Order up Baitdonya ASAP because this spot offers the best oriental food, sandwiches, and even some different types of chicken! 🙌
Everyday Roastery
View this post on Instagram
This place is actually the first cloud cafe in Saudi Arabia, and can deliver all your favorite caffeine infused drinks right to you! The next time you wake up late for work, order from this cloud kitchen to save you time to get ready!
Pasta Boutique
View this post on Instagram

If you're a fan of pasta then this place should definitely be on your list. There are just some days where you feel like cuddling in bed, putting on a Netflix show, and munching on some delicious Penne. Pasta Boutique is perfect for that! 😋
Scoheat
سكو هيت ScoHeat#جديد_الرياض مطعم سحابي متخصص في برقر الدجاج وبسعر مناسب جداً❤️‍🔥بوكس برقر مع بطاطس مميز ولذيذ وصوص كل هذا بـ19ريال بس🤙🏽واللي يميزهم تقدر تختار درجة حرارة البرقر على4مستويات:بدون حراره او لذعه وللي يحبون المخاطره🌶
برقر لذيذ ويشبع محبين الدجاج جربوه بيعجبكم🐓 pic.twitter.com/4GqGWuuEVT

— هياء #الرياض ☕️ (@iihsad) November 17, 2022

Attention all chicken lovers! This spot is definitely for you because Scoheat knows how to whip up a mouth-watering chicken burger accompanied with delicious fries!