Latest
Here's Everything You Need To Know Before Going To Qatar By Road To Watch The World Cup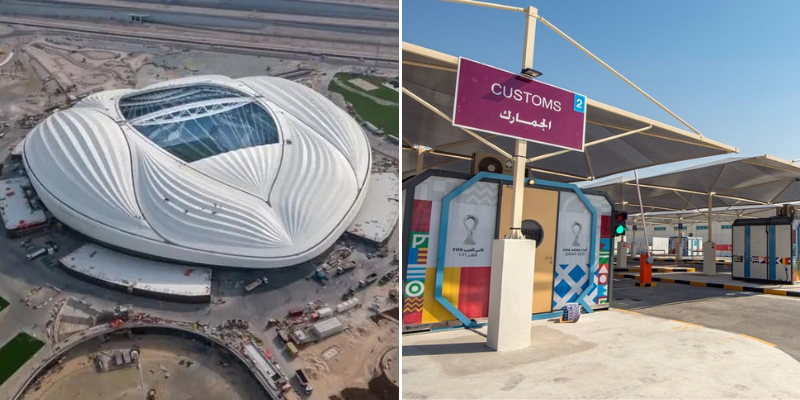 Being the only country that shares a land border with Qatar, football fans from all over are expected to cross through Saudi to reach Qatar for the World Cup. But there's a lot that you need to know before going on your road trip to the country, and here are things to keep in mind before you set off.
1. Private cars won't be allowed in Qatar unless you get prior approval on the Hayya portal.
You must book your hotel reservations through the Hayya portal for a minimum of five nights in order to obtain an admission permit (for the driver only). An email with a link to purchase the vehicle's insurance will be provided if the request is approved. You'll then have to buy insurance and pay a 5,000 Qatari riyal (Dh5,043) permit fee within 24 hours. This payment is non-refundable.
🚨 Starting Tuesday, November 1, only #Hayya cardholders will be allowed to enter the State of Qatar through the Abu Samra Crossing

Learn more about the options for entering Qatar through the land border – Abu Samra Crossing🚍 🚘 👇 pic.twitter.com/MFs4g0MKJa

— Roadto2022Go (@Roadto2022Go) November 1, 2022
2. The easiest option is to park your car at the border and take the shuttle to Doha
You can book parking slots on the Hayya portal, and these are free for the first 24 hours. So ideally, you can park your car at the Abu Samra border, take the shuttle, watch the match, and come back to your car. If you do exceed 24 hours, then you'll have to pay QR1,000.
Those coming through Abu Samra land border to attend one or more matches within 24 hours can enter and exit without a prior hotel reservation, provided they meet certain conditions. #MOIQatar #Qatar2022 pic.twitter.com/bHmmVFhyBV

— Ministry of Interior (@MOI_QatarEn) October 16, 2022
3. There is also an option to go to Qatar by bus or taxi
All you need is your Hayya card for this one, and voilà, you'll be granted entry to Qatar. You can even book a Careem to Doha. But for this or any other option listed above, do make sure that you have the match-day tickets, as the authorities are pretty strict about it.
🛣 Will you be coming to Qatar via the Abu Samra border? Check out these details on what you should do to better prepare for your visit to Qatar!

Make sure you have this travel checklist too! pic.twitter.com/g6291FCRbb

— ILoveQatar – Live (@ILQLive) October 31, 2022