Feature
Here's Why Little Riyadh Has Become The New Hotspot For Dining In The Capital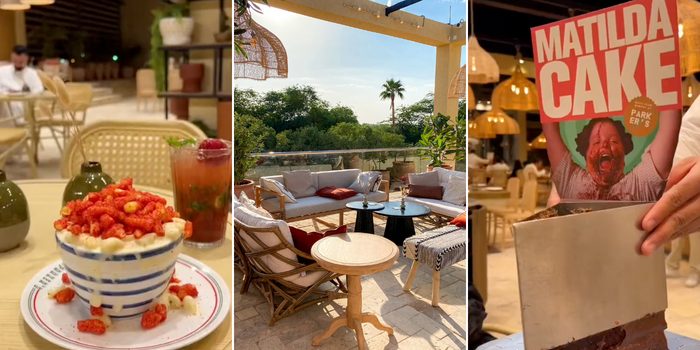 Just when you'd thought Riyadh Season had done it all with Boulevard World, the Riyadh Zoo, and Winter Wonderland, Little Riyadh is here to take your breath away too!
Located in Diplomatic Quarter, this place has everyone swarming for a unique dining experience
تجارب استثنائية ومطاعم ومقاهي مميزة في منطقة #ليتل_رياض 🤍

احجز تذكرتك الآن✨https://t.co/wdQqtpIwlz#موسم_الرياض pic.twitter.com/xRJdNH0fY9

— الهيئة العامة للترفيه (@GEA_SA) November 26, 2022
The hotspot has a selection of top-notch restaurants like Parker's and Joe and the Juice. Both popular picks offer the yummiest selection of food at this new place, that has a totally unique setting. You can totally enjoy a Matilda cake with stunning views of the city.
Little Riyadh sits atop a platform that offers the most beautiful views of Riyadh
باركرز 🔑 PARKERS
جديد الرياض 🤩 المكان خرافي
📍الرياض السفارات pic.twitter.com/kY55vfGobf

— Golden Places (@Golden_Places) November 25, 2022
You can totally take in the views at golden hour at Little Riyadh on your day off 🙌
This place will also host the coolest events
لكل أهل الرياض 📢
Joe & The Juice الحين في #ليتل_رياض 😍
احجز الآن 👇https://t.co/bYU1e8L45l
… #موسم_الرياض pic.twitter.com/IeVxnEppMl

— | Riyadh Season (@RiyadhSeasong) November 26, 2022

From live music performances, yoga sessions and workshops in the area, Little Riyadh is totally planning to take their visitors on a unique journey of dining and activities. They'll even have a farmers market for local products 💚
Here's the map in case you're planning to visit this place ASAP