Latest
New Photos Of The Jeddah Corniche Circuit Make It To The Internet And It's Even Got Its Own Lagoon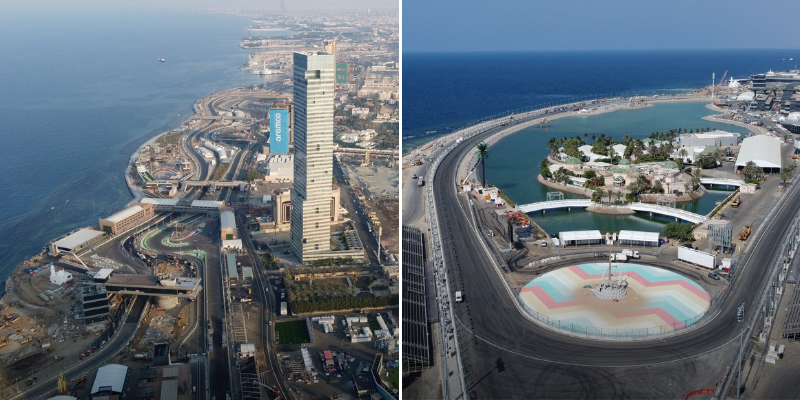 New photos have emerged of the Jeddah Corniche Circuit that have done away with rumours of the track not being completed. It was definitely a race against the clock, yet the officials pulled it off. MBC Action posted aerial shots of the circuit, which reveal the gorgeous circuit – one of the most picturesque on the F1 calendar.
You can even spot a turquoise lagoon in the middle of it. Gorgeous!
صور جوية لـ #حلبة_كورنيش_جدة في السعودية 🇸🇦 🏎️ #فورمولا1_في_السعودية #SaudiArabianGP pic.twitter.com/fRiFBWWy8d

— MBC Action (@mbcaction) November 29, 2021
Here's a before and after photo of the circuit. The "before" photo was apparently shot just 8 months ago.
خلال ٨ أشهر فقط! #حلبة_كورنيش_جدة pic.twitter.com/UQhYI5FayK

— خالد بن سلطان العبدالله الفيصل (@KSAF_SAMF) November 30, 2021
Wait till you see how incredible it looks under the night sky.
تلمع مثل الألماس 💎🤩#حلبة_كورنيش_جدة

Shine like a diamond
🤩💎#JeddahCornicheCircut pic.twitter.com/j8Qlwgmyms

— خالد بن سلطان العبدالله الفيصل (@KSAF_SAMF) November 29, 2021
Albert Fabrega, an F1 analyst, has posted photographs of the pit lanes, which also have the driver names in fine Arabic calligraphy.
Los boxes y el pitlane con los nombres en árabe. Podio a lo grande. No os perdáis este jueves… "El 👁️🏎️🙋‍♂️"

Boxes and pitlane with driver's names also in Arabic. Huge podium. pic.twitter.com/4n5nhuw7tD

— Albert Fabrega (@AlbertFabrega) November 30, 2021