Latest
Revealed! The 2022 Dakar Rally Route Is Out And It's Over 8,300 KM Long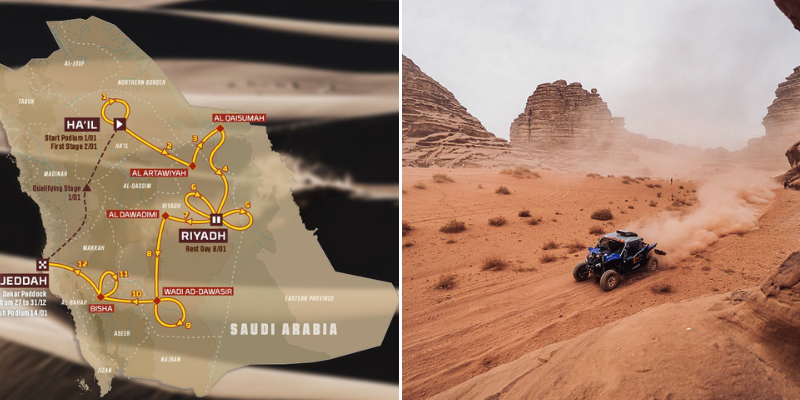 For the third time, the Dakar Rally will be taking place in Saudi in over 12 stages from Jan. 1-14. The route was revealed yesterday and it's over 8,375 km long. 1,065 participants aboard 578 vehicles will be partaking in the 2022 Dakar Rally. The route passes through some of the best landscapes that Saudi Arabia has to offer.
Detailed route map of Dakar Saudi Arabia 2022 🏜
The competitors in this third edition will experience different terrains and new landscapes in the deserts of the Kingdom! 🇸🇦
Dakar Saudi Arabia 2022 will definitely be more challenging from the start until the finish line 😎 pic.twitter.com/ETmN6cxB4o

— Dakar Saudi Arabia | داكار في السعودية 🇸🇦 (@dakarinsaudi) November 28, 2021
First up, the route goes from Jeddah straight to Ha'il. Here's the otherworldly landscape near Ha'il.
View this post on Instagram
Then the route passes through a place called Artawiyah not far from Riyadh. Windswept sand dunes await here.
View this post on Instagram
The village of Al Qaisumah was on last year's rally as well.
View this post on Instagram
It will then pass through Riyadh before heading to Dawadimi. This is a city where the hilly western mountain ranges of Saudi Arabia begin.
View this post on Instagram
The route will then proceed to the town of Wadi Dawasir that lies on the fringes of Rub Al Khali Desert – the world's largest sand desert.
View this post on Instagram
The rally continues westward till it reaches the rugged valley of Bisha, which is not the easiest of routes to tame.
View this post on Instagram
And, finally, the race will end in the coastal city of Jeddah. Right where it all began 14 days ago.
View this post on Instagram