Latest
Riyadh Got Hit By A Sandstorm This Morning And It Looked Quite Spooky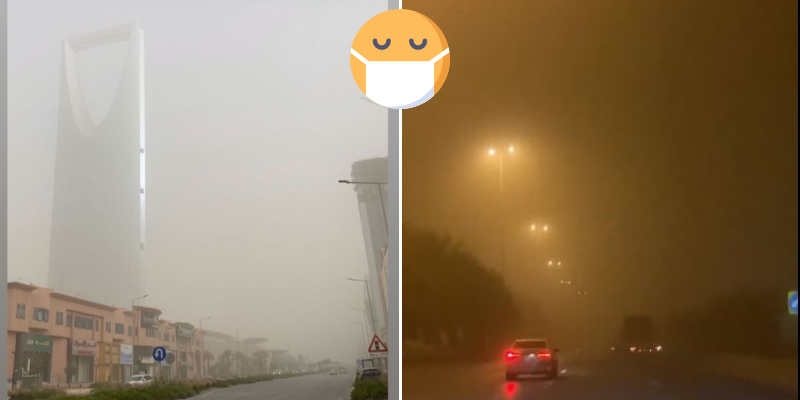 Riyadh's weather is officially heading over to the hotter side and this sandstorm took everyone by surprise
Earlier this morning, citizens of #Riyadh woke up to a sandstorm that will last to 7PM this evening pic.twitter.com/i1hu3Fwt4F

— The Saudi Post – English (@TheSaudiPost_En) May 17, 2022

Residents of the capital woke up to this sight that is predicted to last until 7pm today. Sandstorms are quite common around this time of year, but unfortunately always dull down the day and sunshine.
The Kingdom's Civil Defense also issued an official warning on the poor visibility advising people to stay indoors
تحذير من المركز الوطني للأرصاد عن عواصف رملية على منطقة #الرياض حتى الساعة 3 صباح يوم الثلاثاء.#الوقاية_أمان pic.twitter.com/bwJmSCVSgZ

— الدفاع المدني السعودي (@SaudiDCD) May 16, 2022
Citizens had even appealed to the Ministry of Education to close down schools for the remaining hours due to the severe weather.
Some even measured the visibility outdoors that apparently doesn't show much past 300 meters
@IQAir publishing dangerously misleading #AirQuality info in their website. They say AQ in #Riyadh is moderate but thanks to the current sandstorm you can't see buildings 300m away. My #IQAir outdoor AQ monitor shows the real picture: highly dangerous conditions. 1/2 pic.twitter.com/LKMJRWbjdc

— Tricky Dicky (@TrickyDickyBE) May 17, 2022
People took to their socials to share images of the movie-like scene of the sandstorm.