Feature
Riyadh's New Airport Will Totally Transform The Travel Experience For Its 120 Million Passengers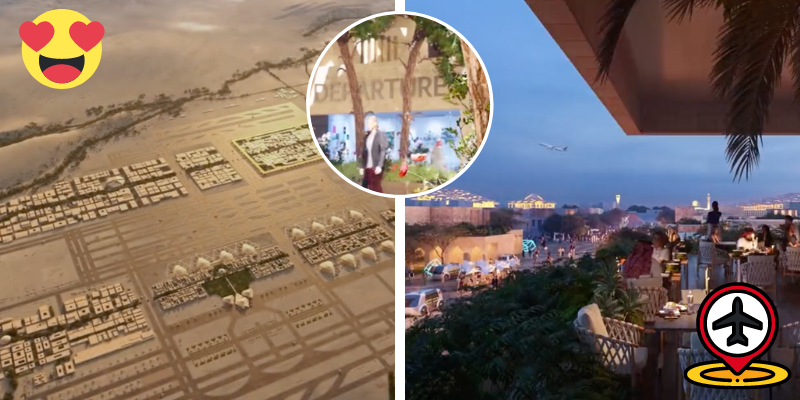 Crown Prince and Prime Minister Mohammad bin Salman just announced the masterplan for Riyadh's upcoming airport, King Salman International. With Riyadh becoming one of the most popular tourist spots in the Middle East, the new airport plans to facilitate more than a hundred million passengers!
King Salman International Airport will be one of the world's largest and will cover around 57 million square meters
Introducing King Salman International Airport.

An aerotropolis centered around seamless passenger journeys, world-class efficient operations, and innovation.#KSIA#PIF pic.twitter.com/yNXbAizzFH

— Public Investment Fund (@PIF_en) November 28, 2022

The airport aims to cover enough area to welcome 120 million passengers by 2030, and 185 million by 250. This new project, as announced by the Saudi Public Investment Fund, plans to put Riyadh on the map when it comes to travel and the top 100 cities in the world.
The pictures of this place look STUNNING
الرؤية التصميمية المعمارية والداخلية لمشروع #مطار_الملك_سلمان الدولي بالرياض، حيث تم استيحاء التصميم من العمارة السلمانية، والتي تميّز الرياض عن غيرها من مدن العالم pic.twitter.com/PusWwrogea

— مشاريع السعودية (@SaudiProject) November 28, 2022

By the looks of it, the amazing aesthetic, beautiful interiors, and variety of places, people won't just be coming to this airport to travel. This spot definitely looks cool enough to just chill and have a coffee at 🤩
The airport will be totally sustainable and feature 6 different runways!
سيصبح #مطار_الملك_سلمان الدولي بالرياض واحدًا من أكبر المطارات في العالم، حيث سيمتد على مساحة تقارب 57 مليون م2، والتي تشمل الصالات الحالية تحت مسمى صالات الملك خالد، و6 مدارج طيران، ومشاريع سكنية وترفيهية ولوجستية، وسيساهم في جعل الرياض ضمن أفضل 100 مدينة في العالم في 2030 pic.twitter.com/2lCPZA4YCV

— مشاريع السعودية (@SaudiProject) November 28, 2022

As sustainability has been a key priority in the Kingdom, the new airport will actually achieve LEED Platinum certification for its green initiatives. According to the Saudi Press Agency, the airport will use renewable energy and an environmentally-friendly design.
The project is set to be completed by 2030