Latest
Riyadh's Newest Space-Themed Attraction Is Exactly What You've Been Looking For To Take The Whole Family This Weekend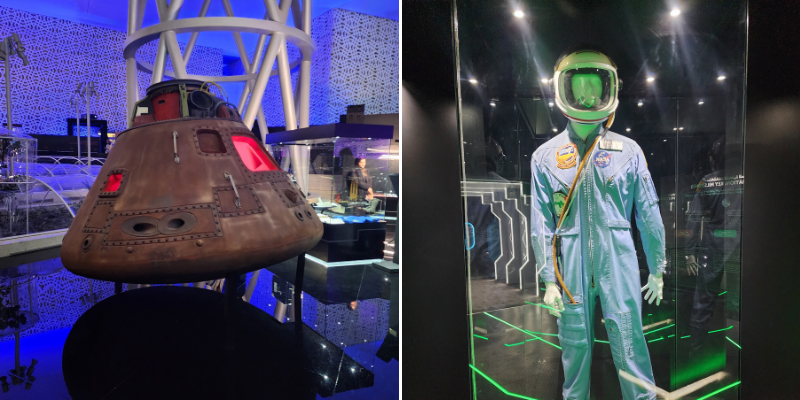 There are concerts, races, and even football matches taking place this weekend, but not all of these are aimed at a family audience. So if you're looking for a place to visit with the fam considering you've already visited the zoo a dozen times since it opened, this new space fair that's running in Riyadh is just the place to go. Ready for a truly out-of-this-world experience, this weekend?
Running under the theme of "Man and Space," the fair is divided into seven zones, each with live experiences to boast.
Saudi Arabia is hosting a month-long space fair in Riyadh. Looks fun and excited for space enthusiasts in the kingdom who now have access to such events right at home https://t.co/N8RIkLgFTq

— Sarwat Nasir (@SarwatNasir) January 24, 2023
The fair will also serve as a good excuse for many to visit the King Salman Science Oasis, as the fair is being hosted inside it.
The science oasis is worthy of a visit on its own (especially if your little one wasn't taken there on a school field trip).
The universe is under no obligation to make sense to you – Neil deGrasse Tyson
Riyadh space fair you have truly outdone yourself 👏 watch me go again 5 times this month 👀 pic.twitter.com/epQ8L7rwXX

— خوله (@ismkl9) January 25, 2023
There are a lot of interesting exhibits on display, including some that draw heavily on virtual technology. Those really stand out.
جرب رائدنا المشي على المريخ وانتقل إلى الاستمتاع بالواقع الافتراض (VR) حيث شاهد الكون عن قرب وتعمق في تفاصيل الكواكب..
وانتقل سامي إلى تجربة المركبات الفضائية وتجربة كرسي انعدام الجاذبية وسط أجواء مليئة بالدهشة والمتعة🌌🛸#معرض_الرياض_للفضاء #الفضاء_عندك pic.twitter.com/4tpI1CYef3

— معرض الرياض للفضاء (@RiyadhSpaceFair) January 25, 2023
These might as well just inspire the little ones to become astronauts in the future.
تشرّفت بحضور إفتتاح معرض الرياض للفضاء (Riyadh Space Fair). كما أفخر بتشريفي بإختيار أعمالي في مجال التصوير الفلكي لتزيّن جنبات المعرض وأن تساهم في إبراز جمالية التصوير الفلكي من سماء المملكة العربية السعودية وتشجيع المزيد من النشء والشباب لدخول هذا المجال ودفعه للإمام 🌌 https://t.co/p08idsITAL pic.twitter.com/lB79YO6Fgr

— Bakry | بكري 🛰 (@BakryBaso) January 23, 2023

The attraction is up and running until the 20th of February, so you still have plenty of time to take a trip to the great unknown! Blast off and explore the exciting world of space, right in Riyadh!