Feature
Ronaldo Played His First Game With Al Nassr And Everyone Was There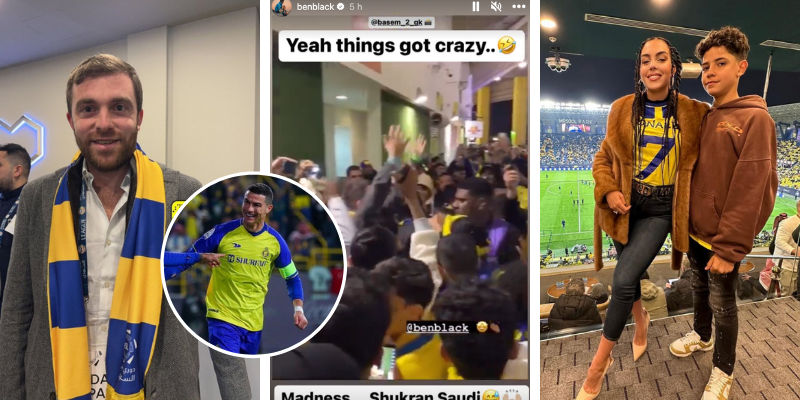 The moment everyone had been waiting for since Ronaldo's signage to Al Nassr happened last night, and literally EVERYONE was there. Fans flew in from all over the world to witness their favorite player in his natural element alongside his new teammates.
Georgina posted these awesome pictures showing her support 💛
View this post on Instagram
Georgina was seen decked out in Ronaldo's new Al Nassr jersey alongside some friends, and his eldest son Cristiano Ronaldo Jr.
Fabrizo Romano, a famous Italian football journalist was also there!
Fabrizio Romano travelled to Saudi Arabia to see Ronaldo's first game at Al Nassr. pic.twitter.com/6fchoSJCFI

— CR7 Portugal (@CR7_PORFC) January 22, 2023
Romano is known to be one of the most sought out and popular football journalists of his time 🙌. He was also decked in the Al Nassr scarf in support for the star player 💛💙 .
This tourist was one of many that were OBSESSING over Saudi at the match
أجنبي وصل السعودية لرؤية رونالدو وتفجأ بالسعودية من تطورها واختلافها عن الصور و الاعلام pic.twitter.com/Lo2uGBvs22

— رضوان. (@Raax_11) January 22, 2023
According to this Ronaldo fan, Saudi is definitely the number one country in the world.
It was Ronaldo's first game with his new team and also his first win 🔥
First game, first win – well done guys 🙌🏻 Thanks to all the fans for incredible support. 💙💛 pic.twitter.com/vmgwE8TgVo

— Cristiano Ronaldo (@Cristiano) January 22, 2023