Announcements
Saudi And Egypt Join Greece To Submit A Tripartite Bid For FIFA 2030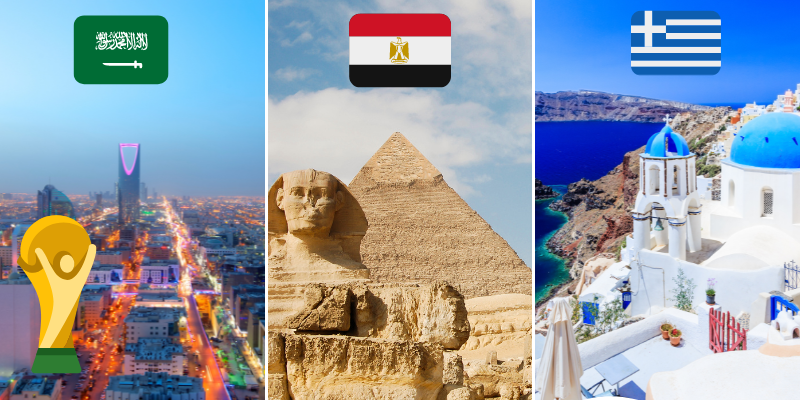 Saudi Arabia and Egypt have joined Greece to submit a tripartite bid to host FIFA 2030
Greece, Egypt and Saudi Arabia want to host together ⭐️⭐️⭐️ The FIFA World Cup 2030 ⚽️🇬🇷🇪🇬🇸🇦🏆#FIFA #WorldCup #Football #Greece #Egypt #SaudiArabia pic.twitter.com/3p7QjpYtoB

— Charalampos of Thessaloniki (@craoft) August 4, 2022

This would mean the FIFA World Cup would be held across three continents of Asia, Africa, and Europe, for the first time in history.
Egypt is looking to boost their football infastructure with a large stadium set to be built in El Alamein in the upcoming years
🇪🇬 Egypt are already planning to host the 2030 FIFA World Cup. 🏆#FIFAWC #Egypt pic.twitter.com/GMGT5lvGFH

— Micky Jnr ✪ (@MickyJnr__) January 28, 2021

Saudi Arabia had also submitted their bid on the basis of ehnacing their sports industry along with attracting tourism. The Kingdom already welcomed thousands of people in the recent "Rage on the Red Sea" heavyweight boxing match, held in Jeddah. Big names like Oleksandr Usyk and Anothony Joshua were the headliners of these matches. Boxers and spectators from all over the world came to attend these games.
Saudi's Crown Prince Mohammad bin Salman was also seen with the FIFA President Gianni Infantino at the recent Rage on the Red Sea match in Jeddah
Saudi Crown Prince Mohammed bin Salman and FIFA President Gianni Infantino in attendance for the Joshua vs Usyk fight in Jeddah tonight (via @aawsat_news) pic.twitter.com/GPFw2yKXd6

— Ahmed Al Omran (@ahmed) August 20, 2022
If the bids are accepted, this would be the second time FIFA World Cup tournament would be hosted in the MENA region, following Qatar's upcoming FIFA 2022 World Cup. However, it would be the first time the matches are held across three different continents.