Latest
Saudi Arabia Has Condemned The Tragic And Gruesome Attack On Kabul Airport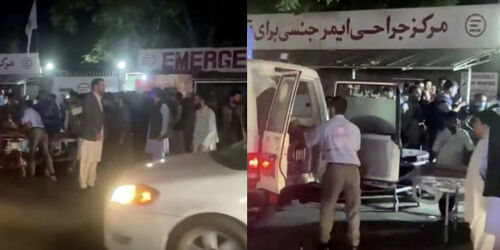 Content Warning: This article contains images that may be disturbing to some readers.
Saudi Arabia has strongly condemned and denounced the terrorist attack that targeted Kabul's airport, which led to a number of deaths and injuries.
The Ministry of Foreign Affairs said the Kingdom is still closely following the current events in Afghanistan
Two suicide bombs hit Kabul airport on Thursday, where several countries are trying to mass evacuate diplomats and foreign nationals.
Taliban fighters stand guard at the site of the August 26 suicide bomb attack at Kabul airport, which killed scores of people.

Backpacks and belongings of Afghan people who were waiting to be evacuated can be seen at the site pic.twitter.com/66NKOqOzZu

— AFP News Agency (@AFP) August 27, 2021
The Kingdom said it hopes for the situation in Afghanistan to stabilize as soon as possible, while stressing its support for the Afghan people.
Spoke today with Saudi Foreign Minister @FaisalbinFarhan about ways the international community can support the Afghan people as well as other shared regional priorities.

— Secretary Antony Blinken (@SecBlinken) August 18, 2021
The ministry also reiterated that the Kingdom "firmly rejects these criminal acts, which are incompatible with all religious principles and moral and human values."
The ministry also offered condolences and sympathy to the families of the victims and Afghan people, and wished the injured a speedy recovery.