Community
Saudi Holds The World Record For These 8 Outstanding Categories That Will Blow Your Mind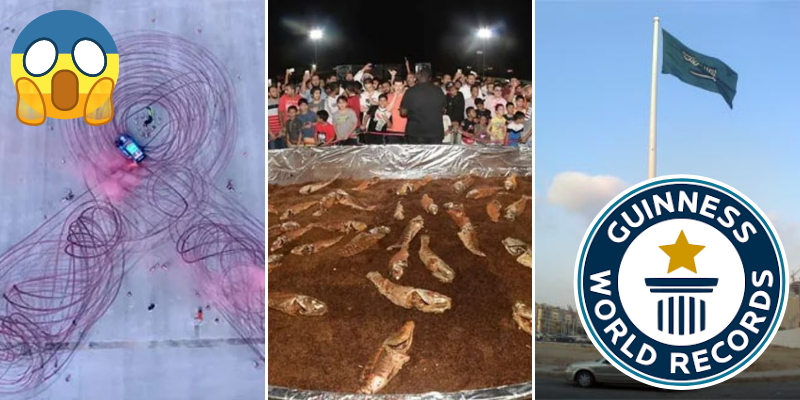 Saudi is known for many things worldwide but these 8 categories make the Kingdom outshine many in the Guinness World Records
Did you know that Jeddah itself holds over 10 world records? In the most unique categories, Saudi Arabia has made a name for itself holding the #1 spot in the world in these following categories. Scroll down below to witness the WOW moments in the Kingdom and how it has upheld its titles for the world records.
1. Largest LED mirror screen display


Saudi Arabia not only took home the best pavilion at Expo 2020, but its interactive display and unique design won it a total of 3 world records. Aside from being the largest LED mirror screen display of 32 meters, this pavilion was also named to have the longest interactive water feature and interactive lighting display which contained over 7,000 lights. These are one of Saudi's most recent accomplishments that people from all over the world got to witness.
2. Largest mirrored building in the world
View this post on Instagram

If you've been to AlUla then you can definitely guess which building they're talking about. That's right, Saudi's very own Maraya Concert Hall is set to be the largest mirrored building in the world measuring 9,740 square meters. This place is made to reflect the beauty of the area and is the Kingdom's first UNESCO Heritage site. Several events have been held in the hall, including a Dolce & Gabbana fashion show.
3. Largest tyre-mark image

Saudi's are known for their love for cars and driving, and they put that to good use for this record. The Kingdom's professional race drivers Abdulhadi Al-Qahtani and Muath Al-Essa created a breast-cancer symbol measuring 883.98 meters squared. The entire image was made by drifting creating the COOLEST design.
4. Largest LED Light Bulb Word
View this post on Instagram
Saudi company flyadeal created a thank you message for their customers on the Thumamah Airport runway. The message consisted of 8,015 LED bulbs to spell out thank you in Arabic. The company had broken the 10 million customer mark, and celebrated in the coolest way.
5. World's tallest flagpole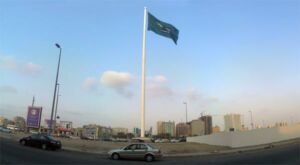 Jeddah is home to this legendary pole that measures about 170 meters, which is really high! The pole was inagurated on the Kingdom's national day back in 2014. The flag also has an outstanding size of  32.5 m by 49.35 m.
6. Largest Amount of people dressed as Ben 10

Everyone knew Ben 10 was definitely a favorite for children all over the Kingdom, especially for these kids. Rainbow Milk partntered with Jeddah's Red Sea Mall for a promotional event of their products through a Ben 10 theme. To their surprise, a total of 475 kids aged 4-11 showd up dressed as the superhero setting a world record. Ths is a unique one, but here you go Ben10 lovers!
7. Largest serving of Sayadieh

Sayadieh is a famous Middle Eastern dish full of rich flavour made up of white fish, rice and onions.  Saudi's Famous blogger and influencer Hussain Sallam, also known as S7S, created the world's largest serving of Sayadeih. It weighed around 600 kg's and was eaten by thousands. He made sure to donate a lot to chairty and the Saudi Food Bank in order to finish the whole dish!
8. Largest fireworks in multiple cities
Saudi is known to have extravagant national day celebrations, and this is what happened back in 2018, when multiple cities displayed large scale fireworks. The total number rounded up to 962,168 fireworks across Dammam, Riyadh, and Jeddah.
Via Guiness Records