Feature
Saudi Is Testing Out A New Cooling Method To Cope With The Summer Heat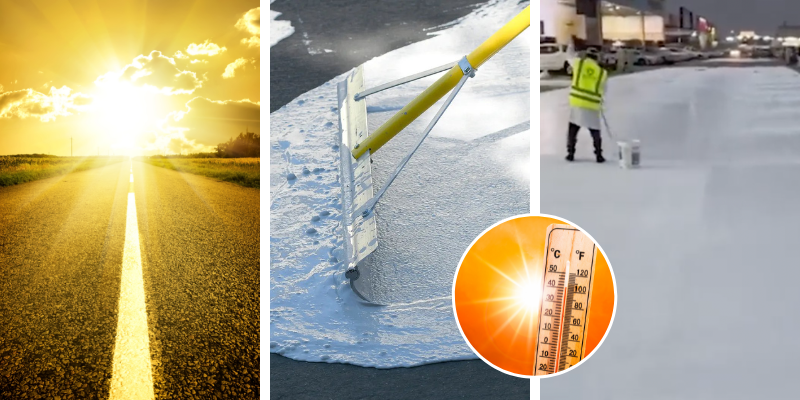 With winter almost over, everyone knows what's coming. Saudi's summers can get quite hot and actually make it difficult to be outdoors. People are known to use mist fans, shades, rooms with cooling temperatures, and even carry around a hand fan due to the severe heat.
The Kingdom is testing out this new cooling method that aims to regulate the surrounding temperature
لأول مرة.. شاهد: صبغ الطرق بدهان أبيض لتبريد الأسطح الأسفلتية في المملكة وخفض درجات الحرارة https://t.co/Zm0JVqaNZ3pic.twitter.com/5q7JTa2CKD

— صحيفة المرصد (@marsdnews24) March 13, 2023
This method, known as "Cooling Asphalt Surfaces," was introduced by the Kingdom's General Authority for Roads in Saudi Arabia and Ministry of Municipal, Rural Affairs and Housing. The roads of Saudi are known to absorb surrounding temperatures, and actually reaches around 70 degrees celsius! As reported by the Saudi Press Agency, it also leads to increased energy consumption and air pollution.
These cold pavements are made of homemade materials that reflect the sun rays, lowering the surface temperature
Dark asphalt significantly affects how hot a city can get, so LA is cooling off with white paint pic.twitter.com/bBI4OO0T3M

— Mashable (@mashable) April 15, 2019

This method has previously been used in other countries, like USA. The new experiment will hopefully reduce high temperatures around neighborhoods and residential areas. Another benefit is that this asphalt cooling also reduces the energy consumption from cooling buildings! It's definitely a win-win situation here.
The Public Authority for Roads is definitely working hard to make sure residents enjoy a cool, comfortable summer 👏 🇸🇦