Announcements
Saudi Ministry Of Foreign Affairs STRONGLY Condemned Yesterday's Attack In Istanbul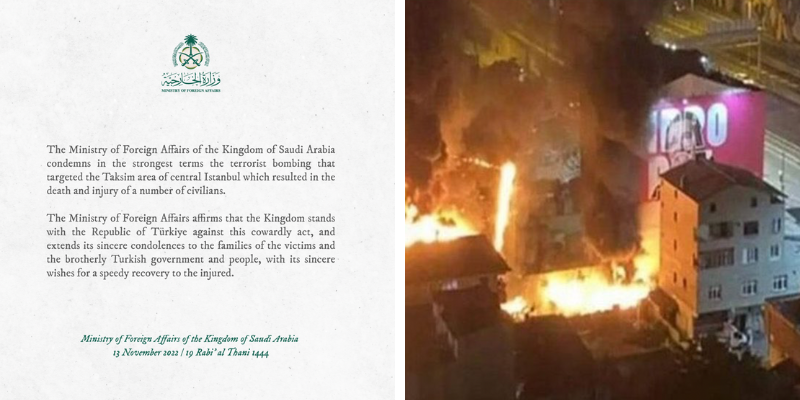 The Kingdom condemned the attack in Taksim, Turkey in a recent statement released by the Ministry of Foreign Affairs
#Statement | The Ministry of Foreign Affairs of the Kingdom of Saudi Arabia condemns in the strongest terms the terrorist bombing that targeted the Taksim area of central #Istanbul which resulted in the death and injury of a number of civilians. pic.twitter.com/VO39FOpZkt

— Foreign Ministry 🇸🇦 (@KSAmofaEN) November 13, 2022
The explosion caused six casualties and over 80 wounded in the Taksim area of Istanbul. The blast occurred at around 4:20pm local time on Sunday, in one of the busiest streets of the city. As reported by the country's interior minister, a suspect has now been arrested.
The statement read that the Kingdom 'condemns in the strongest terms' the terrorist bombing in Taksim
A massive bomb blasted in Istanbul ( #Turkey ) today around 4 pm.
Please pray for them 🙏🙏🙏.#İstanbul pic.twitter.com/KSiPuKBOxw

— Rashid 🎭 (@Rashid4rs) November 13, 2022
As reported by BBC, the Justice Minister Bekir Bozdag, told the media that a woman had sat on a bench in the area for more than 40 minutes, leaving just minutes before the blast took place.