Latest
Some 7000-Year-Old Fossils Have Been Discovered In A Saudi Cave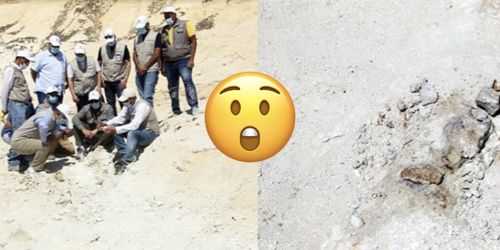 Saudi Arabia's Heritage Commission has made some 7000-year-old discoveries in Umm Jirsan cave in the Harrat Khaybar in Medina.
The new discoveries include animal fossils and human skulls that were unearthed
The discoveries have been made by a team of archaeologists and paleontologists in cooperation with the Saudi Geological Survey, King Saud University, and the German Max Planck Institute.
The discoveries include tens of thousands of animal bones accumulated over time in the cave. The bone accumulations mainly compose of hyenas, horses, donkeys (both wild and domesticated), camels (also, both wild and domesticated), ibex, goat, and cattle.

Human skulls were also found
The bones are presently being examined for DNA, and studies are now underway to examine the history of pastoralism and animal domestication in the Arabian Peninsula.
They form part of a series of discoveries that focus on how the Arabian Peninsula.