Feature
The Kingdom Has Officially Sent Out Relief To Victims Of The Turkey And Syria Earthquakes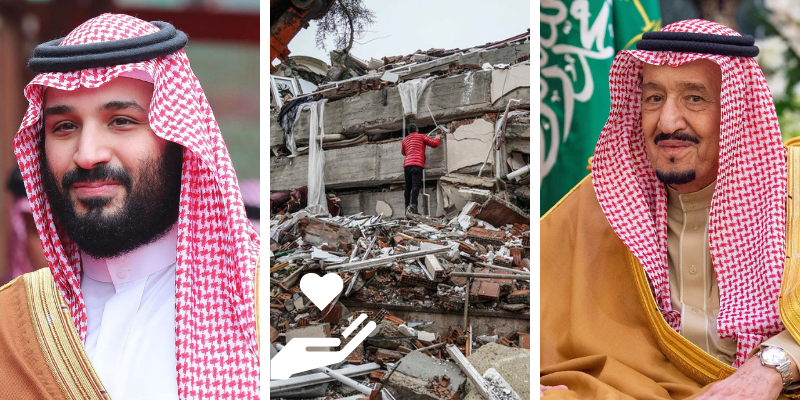 The Custodian of the Two Holy Mosques King Salman bin Abdulaziz and Crown Prince Mohammed bin Salman bin Abdulaziz expressed their sincere condolences to the State of Turkey and the State of Syria. They shared their heartfelt wishes for the people, families of the victims, and the injured for a speedy recovery.
King Salman and Mohammad bin Salman aided the King Salman Relief Center in sending out provisions to the countries
#خادم_الحرمين_الشريفين وسمو #ولي_العهد يوجهان مركز الملك سلمان للإغاثة بتسيير جسر جوي وتقديم مساعدات متنوعة وتنظيم حملة شعبية عبر منصة "ساهم" لمساعدة ضحايا الزلزال في سوريا وتركيا.https://t.co/MA7hTxi6EH#واس pic.twitter.com/OyzlJTtoHd

— واس الأخبار الملكية (@spagov) February 7, 2023
And a large number of people, both inside and outside the Kingdom, donated more than 10 million riyals within 12 hours from the launch of the campaign 👏.
The WHO sent out sincere gratitude to the Kingdom for its support
منظمة الصحة العالمية تعرب عن عميق الشكر للمملكة ؛ لاستجابتها السريعة في كارثة الزلزال الذي ضرب سوريا و تركيا.#السعودية_تساند_سوريا_وتركيا

— خبر عاجل (@AJELNEWS24) February 7, 2023

The Kingdom was the first country to donate humanitarian work for the incident, along with  provisions, emergency teams, and more.
May God reward everyone who donated and help the residents of the state of Syria and the state of Turkey 🙏🏻