Announcements
The Region's Most Prestigious Real Estate Exhibition Is Coming To Bahrain And You Need To Register ASAP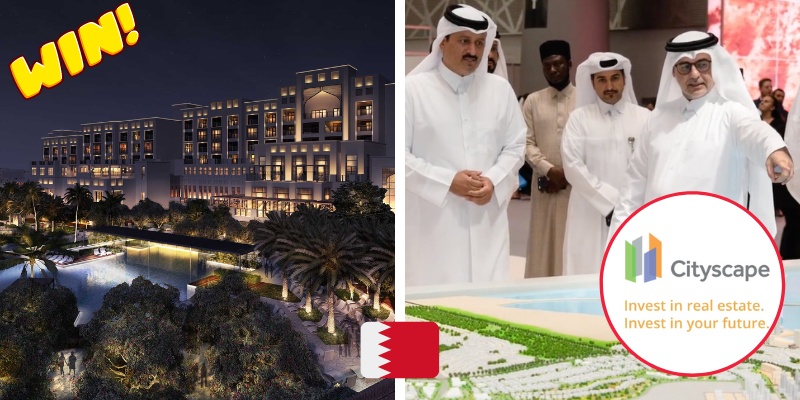 The region's most extravagant real-estate exhibition is coming to Bahrain, and you HAVE to sign up!
You can win the experience of a lifetime when registering for Cityscape Bahrain, and it's a chance you definitely can't turn down. Get the chance to win a 1-night stay at Jumeirah Hotel and Resort in Bahrain, when you register for this iconic event. Considering how Bahrain is Saudi's favorite neighbor and easy getaway, this trip could be the next step to your future home!
You could also get the chance to invest in your new home at Cityscape's numerous exhibits
View this post on Instagram

From luxurious apartments, beautiful homes, and luscious green compounds, this exhibition could be the first step to TOTALLY changing your future. Get a chance to meet Bahrain's finest real estate agents and get planning on your new home, to make your visits to Bahrain more lasting.
Best part is, you can get the chance to win a 1 night stay at one of Bahrain's most luxurious hotels, Jumeirah
View this post on Instagram
Nothing says vacation like an enjoyable luxurious stay on the island. This hotel has the most stunning views of the city and 5-star facilities ready for your stay.  Located in the southwest of Bahrain, you can enjoy a Turkish Hammam, dive into their stunning indoor pool, or order in some top-tier meals with their variety of items for room-service at the Jumeirah Gulf of Bahrain Resort and Spa.
All you have to do is register here for Cityscape's exhibition for a chance to win a memorable hotel experience in Bahrain
View this post on Instagram
Once you have registered, Cityscape will select one special winner for this extravagant experience.
The exhibition will take place from November 21 to 22 at The Four Seasons Hotel in Bahrain Bay
Learn more about Cityscape here