Feature
These 5 Restaurants In Riyadh Made It On The MENA Top 50 List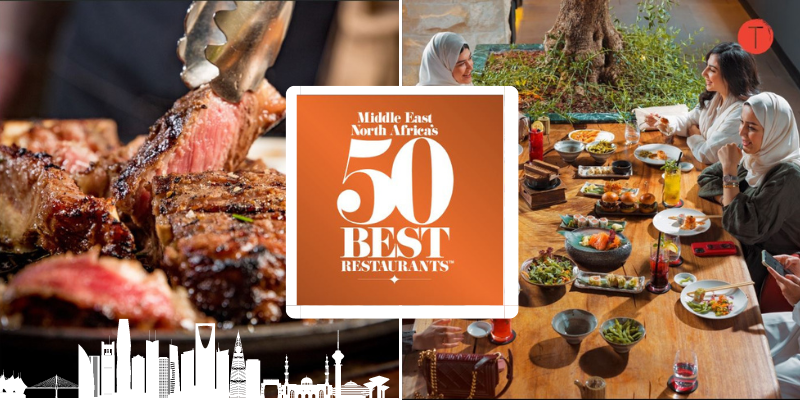 The list everyone's tummies have been waiting for is finally here and five restaurants are featured right here in Riyadh
The World's 50 Best site officially released the top 50 restaurants in the MENA region, and Riyadh was featured five times. Ranking number 15, 30, 37, 42, and 50, these restaurants really have an exquisite dining experience, that you have to go and check out for yourself. Scroll down below to check out these top names that should add on your weekend plans.
1. Myazu
View this post on Instagram

This restaurant is famous for its Japanese cuisine that is presented like it is straight out of a food magazine. Thanks to head chef Ian Pangelly, the food has been ranked 15th place out of 50 in the entire MENA region. The popular spot is located in Dabab Street, in the Sulaimaniya District of the capital.
2. Marble
View this post on Instagram
This place is for the meat lovers as it got ranked 30th on the list. This restaurant features a wide selection of burgers that will always leave you wanting more. This place actually used to only open for a few hours, four days a week, but was still a popular spot. As everything was grilled to perfection, the capital swarmed to this spot to enjoy their juicy burger and traditional Saudi dishes with lamb! This spot is located on Makkah Al Mukarramah Branch Road, on Turki Square.
3. Porterhouse
View this post on Instagram

If you're a fan of wagu beef and well-done cuts, then this place is a MUST visit. It's known for it's delicious steaks and meat-dishes that will defnitely satisfy the carnivore in you. It is located on Prince Muhammad Bin Abdulaziz Road in As Sulamaniyah. Make sure to make reservations because this place is quite in demand!
4. LPM Riyadh
View this post on Instagram
This spot isn't just popular in the capital but also has branches in London and Dubai which are almost always crowded. This french-inspired spot has an exquisite food menu with a Mediterranean twist. LPM doesn't stop there, but also really serves it up when it comes to dessert with a mouth-watering selection. It's definitely going to satisfy all your sweet cravings! You can find this spot on Al Motassem Street, Al Olaya.
5. Tokyo
View this post on Instagram
They really saved the best for last when it came to this place as Tokyo is a national favorite. Although it was ranked last on this list, Saudi's tend to pick this place as number one for authentic Japanese food. As it was the first official restaurant in the capital that featured Japanese cuisine, it has some loyal customers. They have a signature sashimi, tempura, seaweed salad, tamago, and teriyaki collection that many keep coming back for. Make sure to make a booking before heading over to this spot, located on Al Urubah Road, As Sulimaniyah.