Feature
This Photographer Shows You Saudi's Nature Like You've Never Seen It Before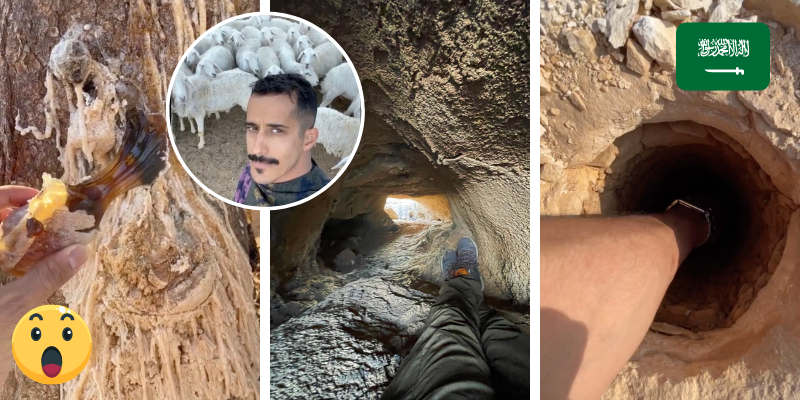 Saudi is full of beautiful natural phenomenons that people have captured on camera. This photographer however takes you on a different journey of nature in the Kingdom. From the unique finds in the dessert valleys, beautiful sculptures in caves, and even some awesome aspects of other countries, this photographer is worth being on your radar to save some special pics 🙌.
Moath Alofi finds the coolest things in and around Saudi Arabia's natural world 👀
View this post on Instagram
Have you ever seen this before? Well, Moath captured what is known as an Acacia tree, at its prime.This tree yields true gum, a substance that's used in adhesives, pharmaceuticals, inks, confections, and other products. Looks cool right? You can find these guys in and around Riyadh!
Here he is crawling through a narrow cave in Medina
View this post on Instagram
The claustrophobia is real 👀. Imagine crawling through this narrow spot and just chilling there. Well, thanks to Moath, you don't have do. He actually crawled right in, took some pics, and did the whole thing for you. Who knew Medina had such awesome wonders.
Did you know this was a thing?
View this post on Instagram
According to Moath, locals sometimes gather rocks around a tree to claim ownership!
Yes, this cool rock was actually found in Saudi Arabia 🤩
View this post on Instagram
Known as a Hematite, Moath made sure to take a pic of this beautiful black rock that was found in the valleys of Saudi Arabia.
You get to walk through the edge of the world here!
View this post on Instagram
This was found near Riyadh
View this post on Instagram
Moath even did the coolest collab with Cartier!
بسعدني ان اكون ممثل الشرق الأوسط لساعة كارتيير "تانك" ، قصة مشوقة وتجربة ممتعة جداً واشكر فريق كارتيير محلياً ودولياً على تعاونهم معي كما اشكر جميع الأصدقاء الذين ساهمو في هذا المشروع الجميل و جعلوه ممكناً 🇸🇦💚@Cartier pic.twitter.com/QMM23tYZ4t

— معاذ العوفي Moath Alofi (@MoathAlofi) September 2, 2021

He really stepped up his game here got featured with one of the most prestigious brands out there! 👏 He was named the official Middle East representative of the Cartier "Tank."
He also posted some cool shots of Iceland 👀
View this post on Instagram
LOOK at that view.
If you're a nature-lover then you definitely need Moath on your feed 👏