Latest
This Twitter Thread On The Old Doors Of Saudi Proves How Ah-Mazing The Kingdom's Traditional Arts Are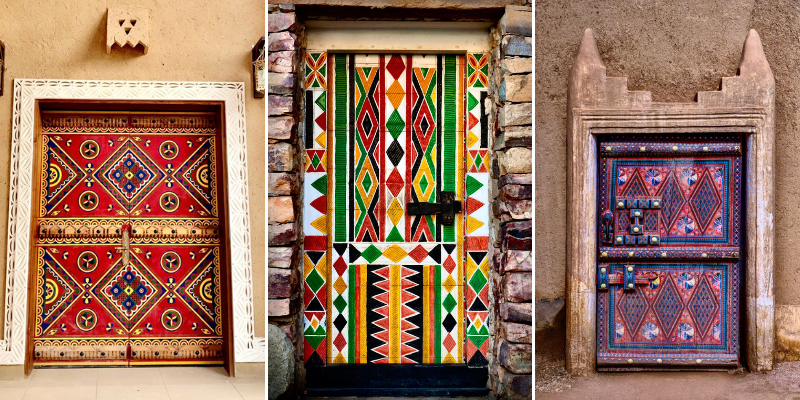 If you visit any of the old neighbourhoods of practically any historic Saudi city, you won't be able to take your eyes off the ornate doors that these houses had. Varying by the region, some more colourful and vivid than others, the doors were where the traditional arts of the kingdom were manifested.
A thread on these doors went viral on Twitter, and you defo need to check it out.
The old doors of Saudi Arabia are known for their rich decoration. Inspired by nature, they represent the culture & deep roots of the central Saudi region. Decorated doors were an essential part of family homes & a focal point for guests

A thread on the art of Saudi doors… pic.twitter.com/UP2FAdpjSl

— Bayt Al Fann (@BaytAlFann) August 30, 2022
 A historic house in central Arabia may appear modest from the outside, but wait till you see its door.
4/ Decorated doors were a cultural treat for guests, who enjoyed the beauty of those doors, their engravings and colors pic.twitter.com/b6jByrHHfB

— Bayt Al Fann (@BaytAlFann) August 30, 2022
The best part is that many are still holding on to this tradition, and some still continue to use these colourful doors for their houses.
6/ Decorations & designs of the wooden doors in Saudi Arabia are passed down from one generation to the next pic.twitter.com/Iy7LU9qwes

— Bayt Al Fann (@BaytAlFann) August 30, 2022
These were actually status symbols back then.
9/ Builders deployed their full artistic talents when working on the majlis as it was the cultural front that received guests. The more decorated the majlis, the wealthier and more influential the owner pic.twitter.com/ZiPhr0CacG

— Bayt Al Fann (@BaytAlFann) August 30, 2022
Some serve pretty good functional purposes, like this door right here.
14/ Another type of decoration is the "lahj," which comprises triangles engraved in the walls to create windows that are arranged in a way that controls the entry of light and the exit of smoke when wood is burned for heating & cooking pic.twitter.com/9OGzQ4e7rH

— Bayt Al Fann (@BaytAlFann) August 30, 2022
These art forms weren't always limited to doors, some extended the colourful livery of their doors to the windows as well.
19/ In Saudi, it is also a tradition for windows to be beautifully painted and decorated with patterns pic.twitter.com/YViqMbKNQF

— Bayt Al Fann (@BaytAlFann) August 30, 2022